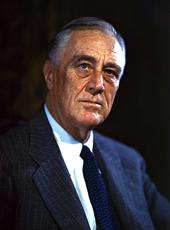 Letter to the American Society of Newspaper Editors.
The assurance I would bring to the American Society of Newspaper Editors, if it were possible for me to greet them in person, would be that free speech and a free press are still in the possession of the people of the United States.
Free speech is in undisputed possession of publishers and editors, of reporters and Washington correspondents; still in the possession of magazines, of motion pictures, and of radio; still in the possession of all the means of intelligence, comment, and criticism. So far as I am concerned it will remain there for that is where it belongs.
It is important that it should remain there, for suppression of opinion and censorship of news are among the mortal weapons that dictatorships direct against their own peoples and direct against the world. As far as I am concerned there will be no Government control of news unless it be of vital military information.
Like all of our liberties, liberty of speech and of the press is not a mere phrase, a mere form of words, a constitutional abstraction. It has a living meaning—whatever the press itself gives it. Government juridical process can afford a negative protection against interference with freedom of speech, but its care, its nurture, and its use are responsibilities of the press itself, which has never prized it so much as it should prize it now.
How that freedom should be used, what contributions it should make to national defense, national interest, and national morale, are questions for publishers and editors themselves to decide.
It would be a shameful abuse of patriotism to suggest that opinion should be stifled in its service. United national sentiment, which all of us should desire, bears no resemblance to a totalitarian regimentation of opinion and treatment of news.
I cannot better close this message to the American Society of Newspaper Editors than with a final assurance that those who disagree with what is being done, and with the manner in which it is being done, are free to use their freedom of speech.
Franklin D. Roosevelt, Letter to the American Society of Newspaper Editors. Online by Gerhard Peters and John T. Woolley, The American Presidency Project https://www.presidency.ucsb.edu/node/209524