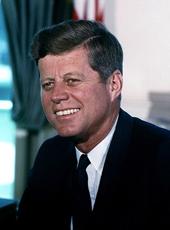 Letter to the Administrator of General Services in Response to a Report of the National Historical Publications Commission.
Dear Mr. Boutin:
I congratulate you and the National Historical Publications Commission on this report. Documents are the primary sources of history; they are the means by which later generations draw close to historical events and enter into the thoughts, fears and hopes of the past. For more than a decade, the Commission has done the most valuable work in stimulating publication from the documentary sources of American history. This work, now progressing with such momentum, must not be allowed to falter. I note with pleasure that our scholars are already speaking of these remarkable cooperative undertakings as achieving no less than a "bloodless revolution" in American historiography.
As the bicentennial of our Revolution draws near, it is doubly important that we move ahead with the task of establishing and publishing authentic texts of the writings of the Founding Fathers. We must also see to completion the project, now well advanced, to collect and publish materials relating to the adoption of the Constitution and the Bill of Rights. Hardly less important is the proposal to publish contemporary documents describing the work of the First Congress in launching the new government under the Constitution. This documentation should have been available long ago to our citizens. Other areas of our history have their own significance, and I am glad to see the Commission is giving consideration to them.
If the Commission is to plan a balanced national program of editing and publication for the next ten years, with collecting and microfilming activities to support and supplement letterpress publication, it must have resources on which it can depend. Compared with the funds required for other programs for the national good, those requested by this Commission for this program are modest indeed. I feel confident that our private foundations and the Federal Government will together agree to provide the necessary budget. The amendatory legislation needed to make this cooperative program a reality has my full approval.
I wish you continued success in this great effort to enable the American people to repossess its historical heritage.

Sincerely,
JOHN F. KENNEDY
[Honorable Bernard L. Boutin, Administrator, General Services Administration, Washington 25, D.C.]
Note: The report, submitted to the President on January 10, is entitled "A Report to the President Containing a Proposal by the National Historical publications Commission To Meet Existing and Anticipated Needs Over the Next Ten Years Under a National Program for the Collection, Preservation, and Publication, or Dissemination by Other Means, of the Documentary Sources of American History" (Government Printing Office, 1963, 61 pp.).
John F. Kennedy, Letter to the Administrator of General Services in Response to a Report of the National Historical Publications Commission. Online by Gerhard Peters and John T. Woolley, The American Presidency Project https://www.presidency.ucsb.edu/node/236790