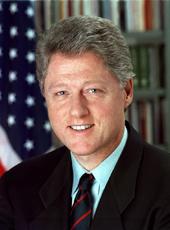 Letter to Speaker of the House of Representatives Newt Gingrich on Proposed Legislation on Illegal Immigration Enforcement
Dear Mr. Speaker:
Reversing decades of neglect, this Administration has dedicated unprecedented resources and enforcement effort to curtailing illegal immigration. Our comprehensive strategy to restore the rule of law to illegal immigration enforcement has done more in three years than was done in thirty years before. It includes:
1) Gaining control of our borders. This Administration is deploying more Border Patrol agents than any previous Administration. In FY 1996, we will deploy an additional 1,000 new and reassigned agents. Overall, the Administration has increased the number of Border Patrol agents at the southwest border by 40% since 1993. For the first time, Border Patrol agents are being equipped with the high technology resources needed to do the job, including sensors, night scopes, computers and encrypted radios. Strengthened anti-smuggling efforts have reduced the criminal transport and exploitation of smuggled aliens.

2) Safeguarding the interests of legal workers. This Administration is the first to initiate effective enforcement of employer sanctions and worksite standards. In addition, I issued an Executive Order to keep federal contracts from going to businesses that knowingly hire illegal workers. We are also testing a computer work authorization verification system and are creating more fraud-resistant immigration documents.

3) Removing criminal and other deportable aliens from the country. In 1995, this Administration removed a record number of criminal and other illegal aliens from this country—74% more than in FY 1990.
Most of H.R. 2202, the Immigration in the National Interest Act, supports the steps we have taken. I continue to urge Congress to pass these provisions and present me with the additional tools that I need to continue the progress we have made.
However, there is a right way and a wrong way to fight illegal immigration. The Gallegly Amendment and the compromise being considered during the conference process would result in kicking children out of school and onto the streets. The street is no place for children to learn; children should be in school. This proposal is an unacceptable and ineffective way to fight illegal immigration. And the proposed compromise—which will still require states to verify the immigration status of all children, and permit states to exclude those who cannot afford to pay tuition—is as objectionable as the original provision. Congress should reject it.
If the immigration bill contains this provision, I will veto it. We can agree on so much in the legislation that would help what we are already doing. Let us move forward with illegal immigration enforcement legislation without this misguided measure.
Sincerely,
BILL CLINTON
NOTE: This letter was released by the Office of the Press Secretary on August 3.
William J. Clinton, Letter to Speaker of the House of Representatives Newt Gingrich on Proposed Legislation on Illegal Immigration Enforcement Online by Gerhard Peters and John T. Woolley, The American Presidency Project https://www.presidency.ucsb.edu/node/288557