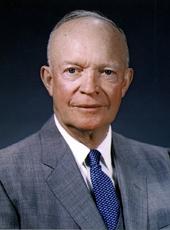 Letter to Senator H. Alexander Smith Concerning the Problems of Older Persons.
Dear Senator Smith:
Your concern about the future for older persons in our society is shared by me and by large numbers of our citizens.
The first half of this century has witnessed phenomenal improvements in the health of our citizens and equally striking increases in our productive capacity and in our standard of living. These are the achievements of a free and prosperous society. They have also profoundly altered many of our ways of life.
One of the most significant changes that has taken place is the marked extension of the years of our life expectancy--it has doubled since our country was founded. Our nation now must learn to take advantage of the full potential of our older citizens--their skills, their wisdom, and their experience. We need those traits fully as much as we need the energy and boldness of youth.
In considering the changed circumstances presented by the lengthening life span, we must recognize older persons as individuals--not a class--and their wide differences in needs, desires, and capacities. The great majority of older persons are capable of continuing their self-sufficiency and usefulness to the community if given the opportunity. Our task is to help in assuring that these opportunities are provided.
All of our people, I believe, share the same objectives in this regard: (1) to help make it possible for older persons who desire and are able to work to continue their productive lives through suitable gainful employment; (2) to remove the fear of destitution in the later years; (3) to stimulate the construction of housing and the provision of living arrangements suited to the needs and preferences of older people; (4) to improve health during the later years through research into the aging process and the causes of chronic disease, by making health services more readily available, and by better nutrition; and (5) to help encourage, within our communities, increased opportunities for participation by older persons in civic affairs and voluntary services, and for sharing in the educational, recreational, social, and spiritual life of the community.
Obviously the Federal Government alone cannot and should not undertake to meet all these needs. Where assistance is needed, much of the initiative is rightly being taken by the States and communities, and by families, employers, labor organizations, voluntary groups, and religious bodies throughout the country.
The Federal Government can, however, be a helpful partner in many ways. For example, broadened and increased social security benefits lessen the fear of destitution on the part of our older citizens. Helping to keep the value of the retirement dollar stable has tremendous significance for them. Increased employment opportunities for older persons, in recognition of their desire and continuing capacity for productive work, add to their security and their sense of worth to society. Improved facilities for the promotion of health and for care and rehabilitation contributes to our older citizens' peace of mind and physical well-being. All of these things have been and are being accomplished by or with the help of the Federal Government. They represent significant steps toward improvement of the circumstances of older persons, and help make it possible for most older persons to meet their needs on their own.
With respect to current planning in the field of aging, the Administration is working actively and on a coordinated basis. Our basic approach has been (1) to place maximum emphasis on individual freedom and responsibility, and (2) to seek maximum utilization of existing programs and agencies. The sum total of the budget and legislative proposals for next year permits a comprehensive approach toward meeting the challenge of aging in our population. These plans have been developed by the several Departments and Agencies which have long had programs benefiting older persons.
In order to insure full coordination of the activities of these Departments and Agencies, I am establishing shortly a Federal Council on Aging. This Council, comprised of representatives of 12 Departments and Agencies, will be of great value in achieving a more effective Government-wide approach to the needs of our older citizens.
The Secretary of Health, Education, and Welfare, in collaboration with other Departments and Agencies, has prepared, at my request, a memorandum on Federal activities and plans in the field of aging. I am sure you will be interested in this memorandum, and I am enclosing a copy for your information.

Sincerely,
DWIGHT D. EISENHOWER
Note: The President wrote in response to Senator Smith's letter of July 12 asking for a statement of his views. Mr. Smith was ranking minority member of the Senate Committee on Labor and Public Welfare. The Senator's letter and the memorandum mentioned by the President, entitled "Recent and Proposed Actions of the Federal Government Affecting Older Persons" and dated March 19, 1956, were released with the President's letter.
For the establishment of the Federal Council on Aging, see Item 74.
Dwight D. Eisenhower, Letter to Senator H. Alexander Smith Concerning the Problems of Older Persons. Online by Gerhard Peters and John T. Woolley, The American Presidency Project https://www.presidency.ucsb.edu/node/233051