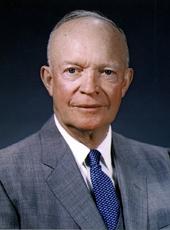 Letter to Secretary Weeks Establishing a Cabinet Committee on Transport Policy and Organization.
Dear Mr. Secretary:
The vital interests of this Nation require that the transportation industry of the United States maintain itself at maximum effectiveness. The Government must provide effective leadership in assuring that its policies and programs affecting the various forms of transportation, whose services are so necessary to the public and to industry and which have such a vital bearing upon the national security, are best designed to aid them in performing fully the roles for which each is best suited.
Over the past years, studies have been made and recommendations have been presented regarding Government programs affecting particular segments of the transportation industry. Following the recommendations of the original Hoover Commission on Government Organization, considerable progress has been made in the past five years in the centralization within the Department of Commerce of major programs affecting transportation. However, a comprehensive up-to-date review of over-all transportation policies and problems is needed as an aid in assuring the over-all consistency of Government policies and programs concerning particular branches of the transportation industry. Also, the organization of the Federal Government to cope with transportation problems should be reviewed.
The exploration and formulation of policy and organizational recommendations covering the whole field of transportation require a broad perspective which comprehends the over-all needs of the Nation and understands the special problems and capabilities of all forms of transportation. To meet this need, therefore, I am establishing a Cabinet Committee on Transport Policy and Organization whose task will be the presentation of recommendations for my consideration.
Because of your major responsibilities in the field of transportation, I am requesting you to serve as Chairman of this Cabinet Committee. By copies of this letter, I am designating the Secretary of Defense and the Director of the Office of Defense Mobilization to serve as the other members. The Secretary of the Treasury, the Postmaster General, the Secretary of Agriculture, and the Director of the Bureau of the Budget will participate on an ad hoc basis. My Advisory Committee on Government Organization will be glad to cooperate wherever possible.
I am informed that a large fact-finding task will not be required since many studies have been made from which much of the required data can be readily obtained. Accordingly, I request that the Cabinet Committee on Transport Policy and Organization submit its recommendations to me not later than December 1, 1954.
Sincerely,
DWIGHT D. EISENHOWER
Dwight D. Eisenhower, Letter to Secretary Weeks Establishing a Cabinet Committee on Transport Policy and Organization. Online by Gerhard Peters and John T. Woolley, The American Presidency Project https://www.presidency.ucsb.edu/node/232292