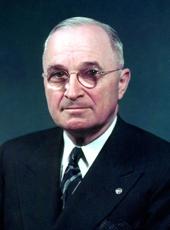 Letter to Secretary Anderson Concerning the Food and Agriculture Organization of the United Nations.
[ Released April 1, 1946. Dated March 30, 1946 ]
My dear Mr. Secretary:
In order that the Government of the United States may readily fulfill the obligations and responsibilities which it assumed when it became a member of the Food and Agriculture Organization of the United Nations, I wish to see appropriate interdepartmental relationships established among the interested agencies of this government. Therefore, I am asking the Secretary of Agriculture to take the leadership in coordinating the work of the various agencies of the Government on problems arising from United States participation in the Food and Agriculture Organization. To assist you in this task, I hereby establish an inter-agency committee, with you or your nominee as chairman, with representatives from the Department of State, Treasury, Commerce, Interior, Labor, the Federal Security Agency, and the Bureau of the Budget. The Committee may add representatives of other agencies for such participation as may seem advisable to the committee. You may designate additional members from your Department, and you should make provision for an adequate secretariat for the Committee.
This inter-agency committee shall have the responsibility for ensuring that our Government aids to the fullest extent the proper functioning of the FAO. In particular, the Committee will assist in formulating the position which this Government should take in the various fields of activity falling within the general purposes and functions of the Food and Agriculture Organization of the United Nations. The Department of State will continue to provide policy guidance on international political questions and on general organizational and administrative questions as they affect the relationships of the Food and Agriculture Organization to the United Nations and other international organizations. The Executive Committee on Economic Foreign Policy will continue to consider broad economic foreign policy questions including those on commercial policy and international commodity policy. The FAO committee will, of course, also need to work closely with other appropriate interagency committees.
You should also give consideration to the appointment of an advisory committee of citizens to aid you and the inter-agency committee in connection with the work of FAO. I am anxious that our relationships with all inter-national organizations have a firm foundation in wide public understanding and participation. An advisory committee of public spirited citizens might well be of inestimable value to our Government's full participation in the work of the Food and Agriculture Organization of the United Nations.
I am sending copies of this letter to the heads of the departments and agencies who will have representatives on the inter-agency committee. You should work directly with them in getting the committee established and functioning.

Very sincerely yours,
HARRY S. TRUMAN
[The Honorable, The Secretary of Agriculture, Washington, D.C.]
Harry S Truman, Letter to Secretary Anderson Concerning the Food and Agriculture Organization of the United Nations. Online by Gerhard Peters and John T. Woolley, The American Presidency Project https://www.presidency.ucsb.edu/node/232740