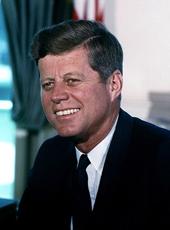 Letter to Robert Troutman, Jr., Upon Receiving Report "Plans for Progress - One Year's Accomplishments" of the Committee on Equal Employment Opportunity
[Released August 23, 1962. Dated August 22, 1962]
Dear Bob:
I have your letter advising of your resignation from the Committee on Equal Employment Opportunity and recognize that the demands on your personal time have been excessive. I can fully appreciate your need to return to your law practice and want you to know of my deep appreciation for the excellent work you have done.
I have had an opportunity to examine the report which you submitted and the results described there are most impressive. As you know, I participated at ceremonies at which Plans for Progress were executed and became aware of the keen interest and enthusiasm of these company presidents in taking every proper action to insure that their companies provide fair and equal opportunity for all Americans, regardless of race, color or creed, for gainful employment.
The work you have done, with your boundless energy, has apparently borne immediate and dramatic results. It seems to me that your year's effort has demonstrated two things: first, the feasibility of this approach and secondly, the need to pursue our objective vigorously and without letup. I am certain that the Committee on Equal Employment Opportunity is similarly impressed with the work that has been done and will continue efforts along this line. I understand that the Plans for Progress are not inconsistent with vigorous enforcement of the Executive Order but are complementary, in that (1) the program contemplates including companies not subject to the Order because they do not have government contracts and (2) although the emphasis is on affirmative efforts by these companies to find qualified non-whites, there is no immunity from the Executive Order for those subject to its provisions. It is clear that we must move forward on all approaches that will contribute to achieving our goal.
We are indebted to you for the creativity and ingenuity you have shown in attacking a great national problem, for your remarkable contribution of time and energy, and for the leadership you have provided. I am pleased to extend my personal thanks to you and hope you will also convey my gratitude to those who assisted you.

Sincerely,
JOHN F. KENNEDY
Note: Mr. Troutman became Chairman of the President's Committee on Equal Employment Opportunity on April 3, 1961. His letter of resignation, dated August 22, and the report, dated August 20 (8 pp., processed), were released with the President's reply. In the third paragraph of his letter the President referred to Executive Order 10925 of March 6, 1961, which established the President's Committee on Equal Employment Opportunity.
John F. Kennedy, Letter to Robert Troutman, Jr., Upon Receiving Report "Plans for Progress - One Year's Accomplishments" of the Committee on Equal Employment Opportunity Online by Gerhard Peters and John T. Woolley, The American Presidency Project https://www.presidency.ucsb.edu/node/236648