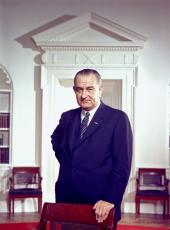 Letter in Response to Report of the Committee on the Economic Impact of Defense and Disarmament.
Dear Dr. Ackley:
I want to thank you and your colleagues for the first report of the Committee on the Economic Impact of Defense and Disarmament.
I established this committee at the end of my first month as President. It has devoted itself for a year and a half to studies which affect two of the greatest issues our Nation faces. The first is to provide for national defense in ways that bring no unnecessary hardship to any American community. The second is to keep every road open for rapid progress toward disarmament as soon as others will join with us.
Your report gives a comprehensive account of the extensive efforts which our government is making to ensure that changes in our defense needs are brought about in ways that are fair to all affected groups and individuals. You rightly note our achievements in community assistance, and you rightly conclude that our work in this field must be improved still further. I agree with you that we must strengthen our aids to workers. I agree also that this is a task for state and local agencies and for private groups working in harmony with the Federal government.
What I find most encouraging of all in the report is your conclusion that our heavy current commitment to defense is not a bar to rapid progress toward disarmament. All Americans will welcome your clear conclusion that "there is no economic reason for the Nation to undergo a major economic decline or a slow stagnation if and when defense outlays are reduced."
The American people will continue to be determined that our great industrial effort for national defense is their servant and not their master. This is the tradition of the armed forces themselves, and it is the conviction, I am sure, of those who serve in the national defense industries, too.
This country will therefore go forward with renewed courage and conviction to provide the defenses that freedom demands and at the same time to press along the hard road toward the disarmament mankind must have.
Finally, your report gives eloquent restatement to the basic principle that sound decisions in a free society must be built on the best possible information. I strongly endorse your recommendation that your studies be continued, just as I strongly endorse your reaffirmation of the need for a constant growth in the basic research which can enlarge the opportunities for peaceful progress throughout our society.

Sincerely,
LYNDON B. JOHNSON
[Dr. Gardner Ackley, Chairman, Council of Economic Advisers]
Note: The Committee on the Economic Impact of Defense and Disarmament, chaired by Dr. Ackley, was established by the President on December 21, 1963 (see 1963-64 volume, this series, Item 62).
The report of the Committee, dated July 1965 (Government Printing Office, 92 pp.), expressed confidence in the ability of existing Federal programs to sustain economic growth and to minimize any adverse effects of changes in defense procurement, although it recognized that such shifts could create serious economic problems requiring special action by Federal, State, and local governments.
The principal recommendations of the Committee were that a permanently constituted Federal Task Force on Community Assistance be organized; that this Task Force and the existing agencies in the Department of Defense and AEC should quickly bring to communities affected by defense changes the whole array of Federal programs that can ease the economic impact and speed readjustment; that policies and procedures for advance notice of impending changes in defense programs be reviewed; that prime contractors be required to supply information on the impact of contract changes on subcontractors; that the Federal-State employment service be strengthened; that inter area recruiting services be rapidly expanded; that Federal agencies take more initiative in mortgage forbearance in emergencies created by changes in defense programs; that continued study be given to relocation assistance; that community needs continue to be given highest priority in disposal of surplus Federal property; and that Federal agencies should review policies governing use of Government-owned, contractor-leased facilities.
The report concluded that neither the recent shifts in defense procurement nor those likely in the future would pose major problems for the national economy.
A summary of the Committee's report is printed in the Weekly Compilation of Presidential Documents (vol. 1, p. 217).
The text of the letter was released at Austin, Tex.
Lyndon B. Johnson, Letter in Response to Report of the Committee on the Economic Impact of Defense and Disarmament. Online by Gerhard Peters and John T. Woolley, The American Presidency Project https://www.presidency.ucsb.edu/node/240633