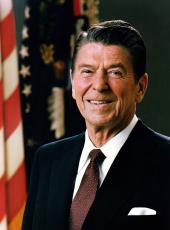 Letter of Resignation of Howard H. Baker, Jr., as Chief of Staff to the President
Dear Mr. President:
As we discussed previously, I would like to leave your Administration before the end of the term. I think this is a particularly good time to do that and, therefore, I ask that I be relieved of my responsibilities as Chief of Staff as of the close of business on June 30th.
When you asked me to undertake this job in February of 1987 we discussed a number of objectives. First and foremost was to navigate the troubled waters of the Irancontra affair. I believe that task is now behind us, and I think your representations have been fully supported by the record. I especially pay tribute to Arthur B. Culvahouse, Jr., White House Counsel, and his staff for their excellent work in these matters. The second item was to see that, notwithstanding the hearings and inquiries related to Iran-contra, we were able to carry forward your agenda. I believe that has been done; indeed, I think that far from being immobilized, the past 16 months have been among the most energetic and successful of your Administration. I particularly wish to single out Tom Griscom, your Assistant for Communications and Planning, for his excellent assistance in planning the schedule and events that made this possible. And finally, we discussed the foreign policy opportunities that lay before you, particularly in the field of arms control. I think the completion of the INF treaty and its ratification by the Senate followed by a successful Moscow Summit ranks among the most historic of your achievements during your Presidency. I believe that we owe a special debt of gratitude, first, to Frank Carlucci as your National Security Adviser and later, Colin Powell, as well, of course, as Secretary Shultz for these accomplishments.
There is still much to be done, particularly a full legislative schedule as well as continuing negotiations in the arms control field. However, you have a good staff in place, and I am confident that they can continue to receive your guidance and carry out your wishes for the remaining months of the Administration. I recommend Ken Duberstein, my able and experienced Deputy, to take my place as Chief of Staff. Therefore, Mr. President, for these reasons and for personal reasons, I make this request effective June 30th.
It has been my pleasure to work with you as fellow politicians dating from 1966, when you were elected Governor and I was elected U.S. Senator, as Majority Leader in the U.S. Senate during your first term, and now as your Chief of Staff. I will always treasure that experience and be grateful to you and the First Lady for your historic contribution to this country.

Sincerely,

HOWARD
Ronald Reagan, Letter of Resignation of Howard H. Baker, Jr., as Chief of Staff to the President Online by Gerhard Peters and John T. Woolley, The American Presidency Project https://www.presidency.ucsb.edu/node/254535