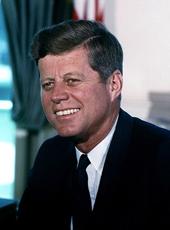 Letter to President Frondizi of Argentina Concerning the Alliance for Progress.
[ Released April 27, 1961 Dated April 18, 1961 ]
Dear Mr. President:
I am grateful for your letter of April 3 with its eloquent statement of the principles and aims of your government in the field of hemispheric relations. I am especially heartened to be assured of your support in the determination to make the Alliance for Progress an undertaking of transcendent spiritual and material consequence for all the people of the Americas.
Many problems beset the effort to enlarge economic abundance, cultural opportunity and social justice for all the people of the hemisphere. You have masterfully analyzed the demoralizing and disruptive consequences of persisting underdevelopment. I share your belief that we must all work together at the earliest possible time and with the utmost resolution and vigor to overcome this condition.
I have great sympathy for your view that the "initial impetus" should be concentrated on the establishment and expansion of basic industries and services. Industrialization provides the vital means by which the hemisphere can move forward toward a greater and more equitably shared abundance. It is our hope that the Alianza will provide a means of 'raising and generating the capital necessary to stimulate such industrial development.
And I am sure--from your reference to the overcoming of illiteracy and disease and to the need for opportunities corresponding to talent and character--that you agree equally that capital by itself is not enough to do the job.
Experience has shown that capital investment is only one of the conditions of economic growth. Other conditions include an increasingly literate and healthy population, an expanding supply of administrative and managerial talent, an ever more mobile society and, above all, a growing commitment to social justice so that the returns of growth accrue, not to a single class, but to an entire community. For this reason we believe that social progress has an indispensable role to play in helping create the conditions in which capital investment will lead to meaningful economic growth. Far from being in conflict, economic and social development are essential partners in the task of modernization.
You correctly state that underdevelopment is not limited to grave material need. Economic abundance, agreeable as it may be, is not itself the end of life. A full life, as you wisely note, must be defined in a cultural and spiritual sense. Our concern with economic abundance is precisely to provide the foundation on which our hemisphere may strive for higher cultural and spiritual fulfillment.
The goals of development are simple; the means of development infinitely ramified. I see the process as one of intimate cooperation among the free republics of the hemisphere, in which each will pool his ideas and experience in order to promote the growth of all. I see the Alliance for Progress as a great release of the creative energies of our peoples in a hemisphere defined by freedom, social justice and mutual self-respect.
I warmly welcome your desire for continued consultations between our Governments and for the pooling of our efforts and ideas as we move forward to make the Alliance for Progress a dynamic reality.

Sincerely,
JOHN F. KENNEDY
Note: President Frondizi's letter of April 3, released by the White House April 4, is published in the Department of State Bulletin (vol. 44, P. 815).
John F. Kennedy, Letter to President Frondizi of Argentina Concerning the Alliance for Progress. Online by Gerhard Peters and John T. Woolley, The American Presidency Project https://www.presidency.ucsb.edu/node/234749