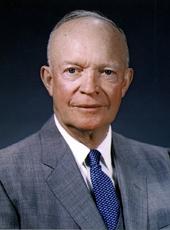 Letter to Premier Khrushchev Concerning His Proposal for an Increase in Trade With the Soviet Union.
Dear Mr. Chairman:
I have read with interest your letter of June 2, 1958, proposing a considerable increase in U. S.-Soviet trade. As I made clear at the Geneva Conference of Heads of Government in 1955 and more recently in my letter of January 12, 1958 to Premier Bulganin, the United States favors the expansion of peaceful trade with the Soviet Union. Expanded trade between our countries could, under certain conditions, be of mutual benefit and serve to improve our relations in general. This would especially be true if it were accompanied by broad contacts between our peoples and a fuller exchange of information and ideas aimed at promoting mutual understanding as a basis for lasting peace.
Americans believe that the economic welfare of each contributes to the economic welfare of all. Therefore they cannot but welcome the emphasis you place in your letter on striving to expand the supply of consumers goods and housing available to the Soviet people. Our people have done a great deal in recent years to promote higher standards of living through expanded trade with many countries. They would like to trade with the Soviet Union as well, for the same purpose.
As you know, United States export and import trade is carried on by individual firms and not under governmental auspices. There is no need, therefore, to formalize relations between United States firms and Soviet trade organizations. Soviet trade organizations are free right now, without any need for special action by the United States Government, to develop a larger volume of trade with firms in this country. They may not be taking advantage of all available possibilities. In recent years, United States firms have bought far more from Soviet trade organizations than the latter have purchased from the United States. Furthermore, many of the more important Soviet trade items mentioned in your letter are accorded duty-free entry into the United States. Thus, the situation favors the expansion of Soviet purchases in this country. While the extension of long-term credits for Soviet purchases in the United States would raise complex legal and political questions, the normal commercial credit terms presently available to Soviet trade organizations permit the further expansion of trade between our two countries.
I am asking the Department of State to examine the specific proposals contained in your letter and to communicate further with your government.
Sincerely,
DWIGHT D. EISENHOWER
Note: Mr. Khrushchev's letter of June 2 is published in the Department of State Bulletin (vol. 39, p. 200). The President's letter of January 12 appears as Item 7 above.
Dwight D. Eisenhower, Letter to Premier Khrushchev Concerning His Proposal for an Increase in Trade With the Soviet Union. Online by Gerhard Peters and John T. Woolley, The American Presidency Project https://www.presidency.ucsb.edu/node/233723