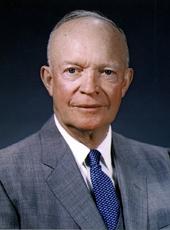 Letter to Nikolai Bulganin, Chairman, Council of Ministers, U.S.S.R.
[Released August 7, 1956. Dated August 4, 1956 ]
Dear Mr. Chairman:
I refer to your letter of June 6 to which I have given a great deal of thought.
It confirmed your announcement of last May that you plan to reduce somewhat the manpower level of your armed forces. Such a reduction I welcome. That would correspond with the action of the United States Government in steadily reducing the size of its armed forces ever since the end of World War II, with an exception only for the Korean war period.
However, I doubt that such reductions of this particular kind as our governments may make in their respective national interests will contribute effectively to eliminate the fear, and the vast cost, generated by national armaments. There is obvious need of international supervisory mechanisms and controls which will encourage greater reductions. I regret that we have made so little progress in this respect.
Some time ago I agreed to your proposal for ground inspection on the assumption that you would also agree to my proposal for aerial inspection, and exchange of military information, made at Geneva a year ago. So far, I understand that you reject this on the ground that it would be an intelligence operation. What I proposed was to be preceded by an exchange of complete military blueprint information, and was designed to make known to each other that neither of us is preparing a sudden massive attack against the other, and that each of us is fulfilling such agreements as I trust we shall be able to reach in the field of disarmament. Surely that kind of intelligence is desirable and necessary, and in the interest of peace and international confidence. Can we not make progress on this?
And also I recall my letter to you of March 1, 1956, when I proposed that, after a date to be agreed upon, production of fissionable materials anywhere in the world would no longer be used to increase the stockpiles of explosive weapons. I had hoped that this proposal, which seemed to me to be of considerable significance, would appeal to you as an important step toward bringing the nuclear threat under control. However, you have never responded to that proposal, and your letter of June 6 makes no reference to the control of nuclear weapons. May I again urge careful consideration of the matter, and especially my proposal of last March?
You refer in your letter to a possible reduction of our respective forces in Germany. Obviously the problem of forces in Germany cannot be dealt with as an isolated matter. In this respect, I must confess that I am greatly disturbed by the developments which have occurred since we met at Geneva last year. We there agreed that the reunification of Germany was a common responsibility of the four Governments at Geneva, and we also agreed that Germany should be reunified by means of free elections carried out in conformity with the national interests of the German people and the interests of European security. Not only has this not happened, but I hear of statements from your side which seem to imply that your Government is determined to maintain indefinitely the division of Germany.
I must confess that I am perplexed as to how we can work together constructively if agreements which are negotiated at the highest level after the most thorough exploration do not seem dependable.
Nevertheless, it is my earnest hope that we will find ways to make progress toward a meaningful control of armaments, a hope shared, I believe, not only by ourselves but by the peoples of the world.
I and my associates have never ceased to give the most intensive study to this whole matter of limitation of armaments and above all the elimination of the growing threat of nuclear weapons and new means of delivery. If this study develops further possibilities of international action, as I trust it will, I shall communicate them to you, either directly or through the appropriate organs of the United Nations. In this connection, I must say that I do not share your view about the activities of the United Nations Disarmament Subcommittee. Discussions there have done much to shed light on this difficult problem and, I hope, to narrow somewhat the gap between our points of view.
May we not, Mr. Chairman, do more to realize the hopes which were born of our meeting at Geneva? We then made promises, notably about Germany, which desperately need to be fulfilled. We pledged ourselves to disarmament efforts which could be fruitful of good for all the world if only we could agree on measures of supervision and control which should be attainable if neither of us has anything hostile to hide. We sought to find the way to develop contacts which would enable our peoples, through better knowledge of each other, to strengthen their friendship, which can be a precious bulwark of peace.
We realize that efforts are being made in your country to eradicate some of the evils of an earlier period. This we welcome. But I hope that you and your associates will not confine these efforts to those evils as manifested within your Party and nation. Those evils were also projected into the international field. Even today they constitute a grievous obstacle to doing those things which we both agreed ought to be done. This situation needs also to be remedied by a new spirit for which I earnestly appeal.
I am,

Sincerely,
DWIGHT D. EISENHOWER
Note: Mr. Bulganin's letter of June 6, 1956, is published in the Department of State Bulletin (vol. 35, P. 300). For the President's letter of March 1, 1956, see Item 52 above.
Dwight D. Eisenhower, Letter to Nikolai Bulganin, Chairman, Council of Ministers, U.S.S.R. Online by Gerhard Peters and John T. Woolley, The American Presidency Project https://www.presidency.ucsb.edu/node/233015