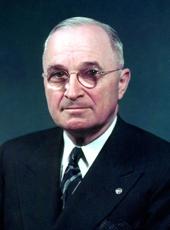 Letter to Mrs. Elizabeth Cochrane on the Need for Increasing Social Security Benefits.
My dear Mrs. Cochrane:
I want you to know that I am in complete agreement with the sentiments you expressed in your letter to me. The present insurance payments of the social security law are just plain inadequate, and in all fairness to the many aged people who depend on these payments for their very existence they must be raised as quickly as possible.
I have been well aware of this problem. In all three of the annual messages which I sent to the Congress this past January, I stated that the insurance payments were inadequate and that they should be raised. I pointed out that because of the rising wage level, the available revenues of the social security system would permit us to increase the primary benefit rates by an average of five dollars a month without any added cost to anyone. It seems only fair that this adjustment in payments should be made for the benefit of those who have already made contributions to the system. The many people dependent on these payments as their sole source of subsistence are certainly entitled to this additional consideration.
On May nineteenth, the Administration bill which authorized this increase in monthly payments came up for debate in the House of Representatives. And our Republican friends, who you and I know are opposed to any legislation which works to the benefit of all our people, frantically searched for some device to defeat the measure. They saw the word "physician" in the text of the bill and on the advice of the American Medical Association began screaming about "socialized medicine." They raised this bogey in connection with a provision that merely called for adequate protection against those who might falsely claim pension benefits on the basis of physical disabilities. This is the same kind of provision that we have had for years in the administration of our veterans insurance program. However, the scare words were enough to give an excuse to a solid bloc of Republicans, and they were able to defeat this bill which would provide the badly needed increases in social security payments.
This doesn't mean our efforts to bring about this increase in benefits will stop. The House leadership has announced that this measure will definitely be brought up for a vote again next Monday. It is my hope that both the House and the Senate will give speedy approval to this highly justified bill now that the scare propaganda has been exposed for the sham it really is.
I certainly hope that this bill will be quickly enacted into law. But I can assure you of this much. I am going to keep fighting for this proposal, just as I have always fought for other measures that are based upon our confidence in the ability of this country to so manage its affairs as to bring a decent life for all its citizens.
I want to thank you for your very kind expression of support for the things I have stood for. One of the most gratifying aspects of this difficult task of mine is receiving warm words of encouragement like yours.

Very sincerely yours,
HARRY S. TRUMAN
[Mrs. Elizabeth Garlock Cochrane, 13 Rundle Park, Rochester, N.Y.]
Note: Mrs. Cochrane's letter to the President had been picked as representative of an older person's experience with old age and survivors insurance payments under existing social security statutes.
Harry S. Truman, Letter to Mrs. Elizabeth Cochrane on the Need for Increasing Social Security Benefits. Online by Gerhard Peters and John T. Woolley, The American Presidency Project https://www.presidency.ucsb.edu/node/230955