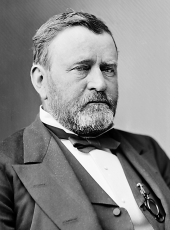 Letter to Joseph R. Hawley, President National Union Republican Convention, Accepting the Presidential Nomination
GENERAL JOSEPH R. HAWLEY,
PRESIDENT NATIONAL UNION REPUBLICAN CONVENTION.
In formally accepting the nomination of the "National Union Republican Convention," of the 21st of May, inst. it seems proper that some statement of views, beyond the mere acceptance of the nomination, should be expressed.
The proceedings of the Convention were marked with wisdom, moderation and patriotism, and, I believe, express the feelings of the great mass of those who sustained the Country through its recent trials. I endore their resolutions.
If elected to the office of President of the United States it will be my endeavor to administer all the laws, in good faith, with economy, and with the view of giving peace, quiet and protection every where. In times like the present it is impossible, or at least eminently improper, to lay down a policy to be adhered to, right or wrong, through an Administration of four years. New political issues, not foreseen, are constantly arising; the views of the public on old ones are constantly changing, and a purely Administrative officer should always be left free to execute the will of the people, I always have respected that will, and always shall.
Peace, and universal prosperity, its sequence, with economy of administration, will lighten the burden of taxation, while it constan[tl]y reduces the National debt. Let us have peace.
With great respect,
your obt. Svt.
U.S. GRANT
Ulysses S. Grant, Letter to Joseph R. Hawley, President National Union Republican Convention, Accepting the Presidential Nomination Online by Gerhard Peters and John T. Woolley, The American Presidency Project https://www.presidency.ucsb.edu/node/355765