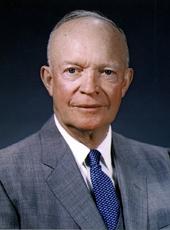 Letter to Joseph M. Dodge Designating Him as Special Assistant to the President and as Chairman, Council on Foreign Economic Policy.
[Released December 11, 1954. Dated December 1, 1954]
My dear Mr. Dodge:
It is my desire that we proceed as rapidly as possible to bring about improvements in the organization of the Executive Branch for the development and coordination of foreign economic policy, including its relation to domestic economic policy where it is involved. I have discussed the objectives of this program with the Cabinet, my Advisory Committee on Government Organization, the Director of the Bureau of the Budget, and with you.
I am most pleased that you have agreed to continue to serve the Government and to organize on my behalf this very important undertaking. Effective immediately I am designating you as Special Assistant to the President to assist and advise me in accomplishing an orderly development of foreign economic policies and programs and to assure the effective coordination of foreign economic matters of concern to the several departments and agencies of the Executive Branch.
More particularly, in respect to foreign economic matters, I shall look to you to provide for the anticipation of problems and issues, ensure advance preparation, analyze information for the purpose of clarifying and defining issues, and determine the primary responsibilities of the executive agencies for the preparation of original documents and for any other steps necessary to produce a coordinated and agreed upon governmental position.
There now are numerous standing and ad hoc interdepartmental coordinating mechanisms, as well as a complex of overseas departmental operations, each dealing with a limited aspect of our foreign economic policy. I expect that the arrangements established by this letter, with the cooperation and assistance of the Director of the Bureau of the Budget and his staff and with the benefit of other studies in this field of activity now underway, will lead to a substantial simplification of the present structure.
You are authorized to establish and to serve as the chairman, of a Council on Foreign Economic Policy through which executive agencies can participate effectively in this undertaking. The Secretaries of State, Treasury, Commerce, Agriculture, and the Director of the Foreign Operations Administration, or their principal deputies, should comprise the initial basic membership of the Council. All of them are regular members of the Cabinet and three of them are regular members of the National Security Council.
In addition, ex officio members will be my Administrative Assistant for Economic Affairs, my Special Assistant for National Security Affairs, and a member of my Council of Economic Advisers. The heads of other departments and agencies should be invited by the chairman to participate in meetings of the Council when matters of direct concern to them are under consideration.
You may provide yourself with such staff as is necessary to assist you in connection with these duties. In addition, I anticipate that from time to time provision will need to be made for a limited number of special task forces for the review of specific foreign economic matters that are so extensive or complicated as to make it advisable to organize them as special projects.
Because the formulation of foreign economic policy in many instances is an integral part of the formulation of national security policy or of international financial policy, I want you, as quickly as possible, to establish appropriate working relations with the National Security Council and the National Advisory Council on International Monetary and Financial Problems, respectively, to the end that in those instances referred to the desired integration will be effected. The achievement of such integration will be furthered by your attendance at such meetings of those organizations as you consider necessary, as well as attendance by a representative of those organizations at meetings of the Council on Foreign Economic Policy when appropriate.
Sincerely yours,
DWIGHT D. EISENHOWER
Dwight D. Eisenhower, Letter to Joseph M. Dodge Designating Him as Special Assistant to the President and as Chairman, Council on Foreign Economic Policy. Online by Gerhard Peters and John T. Woolley, The American Presidency Project https://www.presidency.ucsb.edu/node/233408