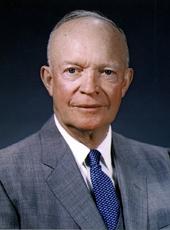 Letter to Jere Cooper, Chairman, House Ways and Means Committee, on Duties on Lead and Zinc.
Dear Mr. Chairman:
I appreciate having your letter concerning the Administration's proposal for sliding-scale import excise taxes on lead and zinc. It is gratifying to know that your Committee is giving attention to the distressed condition of the lead and zinc mining industries.
In 1954, as you pointed out, the Tariff Commission recommended higher duties for lead and zinc under the "escape clause" of the Trade Agreements Extension Act of 1951. But other means were available at that time both to meet the public need and afford the relief immediately necessary. Such means were found in the program of increased purchases of domestic ores for the stockpile and the barter of surplus agricultural commodities in exchange for foreign lead and zinc. These programs had the advantage of increasing our inventories of these materials as a security measure while, at the same time, removing price depressing excess supplies from the domestic and world markets. Recently, however, the attainment of our stockpile goals has necessitated adjustments in these programs, and the problem of distress has reappeared.
As I indicated in my press conference on August twenty-first, my view with respect to maintaining the integrity of Section 7 of the Trade Agreements Extension Act of 1951 is at one with yours and, I am sure, with that of all the members of the House Ways and Means Committee. H.R. 6894, as you know, is the sole exception proposed by this Administration in over four and onehalf years. In view of this fact, I think you will agree that such exceptions are not proposed lightly.
The special circumstances of this case that suggest the desirability of following the legislative route were set forth by Administration witnesses before both your Committee and the Senate Finance Committee.
It is understood, of course, that the initiation before the Tariff Commission of an escape clause proceeding by the industry is available in the last instance. It is my understanding that the industry will take such course if the Congress does not pass the requested legislation. In that event, I would request the Tariff Commission to expedite its consideration of the matter.
You mentioned the possibility of relief through the national security amendment of the Trade Agreements Extension Act of 1955. Although a continuously productive mining industry is of fundamental importance to the national security, it is deemed appropriate in present circumstances to invoke the relief afforded by the escape clause of the Trade Agreements Extension Act of 1951 if the Congress does not enact H. R. 6894. The importance of this industry to a strong national defense should, however, not be overlooked.
I share your belief that expansion of foreign trade is in the best interests of the United States and I reiterate my conviction that such an objective can best be implemented by Reciprocal Trade Agreements Programs.

Sincerely,
DWIGHT D. EISENHOWER
Dwight D. Eisenhower, Letter to Jere Cooper, Chairman, House Ways and Means Committee, on Duties on Lead and Zinc. Online by Gerhard Peters and John T. Woolley, The American Presidency Project https://www.presidency.ucsb.edu/node/233485