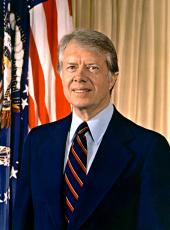 Letter to Governor Boren of Oklahoma on National Energy Policy
Gov. David Boren,
State Capitol Building,
Oklahoma City, Okla.
Dear Governor Boren: The formulation of a workable national energy policy implemented by a responsive, understandable governmental structure will be of highest priority in a Carter Administration. If we are to reach our goals of full employment and a healthy, growing economy, we must reduce our dangerous dependence on foreign oil and we must develop our own domestic energy supplies. These resources must be produced and used in an environmentally acceptable manner at a cost that the consumer can afford to pay.
A sound energy policy must aggressively promote conservation of our scarce oil and gas resources. This is the only way in which we can hope to make ends meet in our energy budget. But, coupled with energy conservation our policy must encourage additional production of our domestic reserves.
Eight years of Republican Administration have failed to produce an energy policy. Demand for new energy supplies has increased by over 4 percent per year since 1969—even though demand was reduced considerably during the recession triggered by the Arab oil embargo. At the same time, domestic production and resources have decreased substantially, and dependence on foreign supplies has increased from 35 percent prior to the embargo to over 40 percent today.
To increase our domestic production, I have proposed three important steps.
First, I will work with the Congress, as the Ford Administration has been unable to do, to deregulate new natural gas. The decontrol of producers' prices for new natural gas would provide an incentive for new exploration and would help our nation's oil and gas operators attract needed capital.
Deregulation of new gas would encourage sales in the interstate market and help lessen the prospect of shortages in the nonproducing states which rely on interstate supplies. While encouraging new production, this proposal will protect the consumer against sudden, sharp increases in the average price of natural gas.
Second, I believe we should act to encourage enhanced recovery from wells already in production. As you well know, an average of 60 percent of our oil remains in the ground after standard recovery methods have been exhausted. It is estimated that up to 60 billion barrels of crude could be added to our supply if enhanced recovery techniques are used. Since the environmental costs have already been largely paid on these resources, both consumers and producers alike benefit from development of this resource.
Third, I favor a substantial shift from the use of oil and gas—our highest quality energy sources—to coal, which we have in abundance. We must immediately begin a program to encourage conversion from the use of petroleum and natural gas to coal in those applications for which coal is an acceptable substitute. Our present demand for coal is limited by two important factors. First, we have geared our technological growth to oil and gas for well over 100 years. Second, we have failed to establish a stable regulatory climate in which coal producers are sure of the rules of the game before they make investments in expanded production or new mines. Switching to the use of coal will require strong presidential leadership and proper federal incentives to encourage the conversion process. A Carter Administration will provide this leadership.
I hope that these policy recommendations will help to put my views on the supply aspects of the energy problem into focus. Without a strong commitment to increasing our domestic production, while maintaining basic environmental principles, we cannot hope to reverse the unhealthy trends which the lack of leadership of the current administration has produced.
Sincerely,
Jimmy Carter.
Jimmy Carter, Letter to Governor Boren of Oklahoma on National Energy Policy Online by Gerhard Peters and John T. Woolley, The American Presidency Project https://www.presidency.ucsb.edu/node/347580