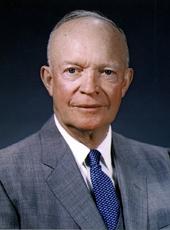 Letter to General Omar N. Bradley, Chairman, President's Commission on Veterans' Pensions, Concerning a Study of Veterans' Benefits.
Dear General Bradley:
The Commission on Veterans' Pensions, of which you are the Chairman, has been appointed by me to carry out a comprehensive study of the laws and policies pertaining to pension, compensation, and related nonmedical benefits for our veterans and their dependents. I would like the Commission, on the basis of its studies, to furnish me with a report, including recommendations regarding fundamental principles, which I can use as the basis for making recommendations to the Congress for modernization of these benefits and clarification of their relationship to our broader Government social insurance and family protection programs.
This Nation has always responded generously to the needs of those men and women who have served it so well in times of great danger. Pension and other benefits for veterans have been provided since the Revolutionary War. I am in full accord with this policy.
In recent years, however, rapid and profound changes in our national military, social, economic, and fiscal circumstances have occurred which affect fundamentally our long-standing veterans' pension and compensation programs. In 1940 there were only 4 million veterans. There are now nearly 21 million, and the number is increasing rapidly. The necessity for recruiting large Armed Forces has led to substantial improvements in military pay and other conditions of service. Extensive and timely medical, rehabilitation, and readjustment programs have been established for veterans. Most notable in this respect are the improved medical, prosthetic, and rehabilitation measures for disabled veterans and the readjustment benefits for all new veterans to help them become economically productive and recapture the normal pattern of their lives. To maintain the well-being and strength of our democratic society we have also instituted policies to maintain high and stable employment and developed the broad social security programs to provide economic assistance to the aged and the needy. These developments reflect the growth of the Government's obligations and a more adequate recognition of its responsibilities, and they have also had an important effect on its fiscal situation.
While these fundamental changes were taking place, the traditional pension and compensation programs for veterans and their families were also being further extended and liberalized. Thus under existing laws and regulations many of our veterans will be able to qualify both for non-service-connected pensions and social security benefits when they reach age 65. In the service connected compensation program the standards for rating disabilities have been modified many times since their development in the years after World War I. Numerous piecemeal legislative changes have also granted legal presumptions of service connection and provided additional specific awards which result in different payments to individuals of the same degree of disability.
These programs are large and very significant. Expenditures for pension and compensation benefits to veterans are almost as large as all benefit payments of the old-age and survivors insurance system and are likely several decades hence to be double their present magnitude. In this situation the need is apparent for a constructive reappraisal of the standards under which such benefits should be provided. It is our duty to arrange our affairs so that future generations will inherit an economic and social structure which is fundamentally sound and in which obligations, including those owed to veterans and their survivors, are distributed equitably and not as an unwelcome burden.
It is in this constructive sense that I have established the Commission on Veterans' Pensions. It is my desire that this Commission systematically assess the structure, scope, philosophy, and administration of pension, compensation, and related nonmedical benefits furnished under Federal legislation to our veterans and their families, together with the relationships between these benefits and others which are provided our citizens without regard to their status as veterans. The objective of this effort should be to bring up to date and correlate these benefits and services so that veterans and their survivors will receive equitable treatment consistent with the orderly development of public policy in this important area.
In this task you will have the full cooperation of the administration, including the facilities of the executive agencies. The White House staff will assist you on administrative housekeeping matters. I should like to keep in touch with your progress, and I ask that your final report with its recommendations be in my hands by November 1, 1955.

Sincerely,
DWIGHT D. EISENHOWER
Note: At the time this letter was made public the White House announced the appointment by the President of the Commission as follows: General Bradley, chairman, Clarence G. Adamy, William J. Donovan, Paul R. Hawley, Martin D. Jenkins, Theodore S. Petersen, and John S. Thompson, members.
The Commission was established by Executive Order 10588 of January 14, 1955 (3 CFR, 1955 Supp.).
The report of the Commission is entitled "Veterans' Benefits in the United States" (Government Printing Office, 1956).
Dwight D. Eisenhower, Letter to General Omar N. Bradley, Chairman, President's Commission on Veterans' Pensions, Concerning a Study of Veterans' Benefits. Online by Gerhard Peters and John T. Woolley, The American Presidency Project https://www.presidency.ucsb.edu/node/234032