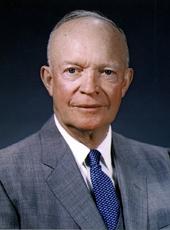 Letter to General Bragdon, Special Assistant to the President for Coordination of Public Works Planning.
[Released December 10, 1956. Dated November 17, 1956]
Dear General Bragdon:
There has now been opportunity for me to review the report of your activities with respect to the coordination of public works planning and matters relative thereto transmitted in your memorandum of November 13, 1956. I am gratified with the progress that has been made in this area. Your plans and proposals represent a constructive forward step toward the achievement of our objective of strengthening and improving the coordination of long-range planning of public works at all levels of government.
In our country where the Constitution recognizes the proper sphere of State government and where the independent functioning of our local governments, is retained and fostered, it is especially necessary that truly comprehensive planning be accomplished at and by all levels and that it be oriented with reference to intergovernmental relationships in order to secure sound, integrated development. This will be helpful in assuring and preserving the proper division of responsibilities among levels of government.
It is clear that the Federal Government should take the lead in developing effective coordination of public works planning.
Your plan to give greater emphasis at this time to the coordination of public works planning by the Federal agencies seems to me correct. I also concur with your findings as to the desirability and necessity of having the Executive departments and agencies intensify their planning efforts and that the stimulation of State and local public works planning be increased.
In accordance with the above, I wish you would develop procedures for early recognition and identification and problems and policy issues that may arise in this field, and continue the formulation of lines of action for their resolution. You have my continued interest and support in the efforts to move forward more rapidly toward the attainment of the objective of strengthening the nationwide public works planning.

Sincerely,
DWIGHT D. EISENHOWER
Note: This letter was released at Augusta, Ga., as part of a White House announcement regarding the progress in public works planning made by Maj. Gen. J. S. Bragdon, since his appointment on August 12, 1955.
The announcement reports that Gen. Bragdon proposed a new approach to comprehensive and coordinated planning. An advisory committee for Federal public works had already been formed, and regular meetings were being held. Under the plan States would be urged to establish advisory groups which would keep governors and State legislatures informed of how proposed State public works programs would fit in with the Federal program. Cities likewise would be encouraged to create advisory groups which would keep mayors and city councils informed as to how their construction programs would meet the requirements of the cities' expansion over the next 15 or 20 years.
Dwight D. Eisenhower, Letter to General Bragdon, Special Assistant to the President for Coordination of Public Works Planning. Online by Gerhard Peters and John T. Woolley, The American Presidency Project https://www.presidency.ucsb.edu/node/233943