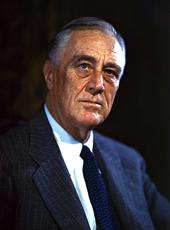 Letter from Cordell Hull Submitting Report on the Inter-American Highway.
The President:
Pursuant to the Act of Congress approved March 26, 1930 (Public No. 78, 71st Congress), I beg to submit herewith, for transmission to the Congress, two copies of a report of a reconnaissance survey for an Inter-American highway between the Republic of Panama and the United States, together with a letter of transmittal from the Secretary of Agriculture dated January 25, 1934. As shown in that letter, the report was prepared by the Bureau of Public Roads, Department of Agriculture, which Bureau was the agency selected to cooperate with the several Governments, members of the Pan-American Union, which signified a desire to participate in the surveys. A third copy of the report, for your personal use, is also submitted.
The report contains a description of the selected route, with accompanying diagrams of line and profile, and there appears in regard to each country which will be traversed by the highway a general statement of the principal facts of an economic nature related to the proposed enterprise. There is also included in the report a series of airplane photographs, as well as other pertinent information regarding the proposed highway.
In submitting the report, I desire to acknowledge the helpful cooperation which has been received from officials of the several interested Governments.
That of Panama not only collaborated with the representatives of this Government in connection with the survey conducted through that country, but also generously provided, free of rent, office space in which were established the headquarters of the officials conducting the surveys throughout the three-year period during which the work was in progress. Valuable assistance was also received from officials of the Governments of Costa Rica, Nicaragua, Honduras and Guatemala in connection with the reconnaissance surveys made in these countries. While the Governments of El Salvador and Mexico did not make an official request for cooperation through the Pan-American Union as provided for under the Act of Congress, since the route through those countries had already been largely determined and the highway partly constructed, nevertheless officials of both of these Governments furnished important information regarding the route selected and highways completed in their respective countries.
Respectfully submitted,
CORDELL HULL
Franklin D. Roosevelt, Letter from Cordell Hull Submitting Report on the Inter-American Highway. Online by Gerhard Peters and John T. Woolley, The American Presidency Project https://www.presidency.ucsb.edu/node/208480