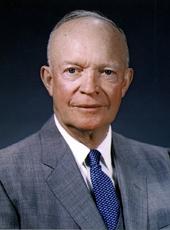 Letter to Dr. Chester I. Barnard, Chairman, National Science Board, Concerning United States Participation in the International Geophysical Year.
[Released June 25, 1954. Dated June 24, 1954]
Dear Dr. Barnard:
I appreciate your letter with respect to the United States program for participation in the International Geophysical Year.
I am glad to support this undertaking. It is a striking example of the opportunities which exist for cooperative action among the peoples of the world. As I understand it, some thirty nations will unite their scientific resources for a simultaneous effort, extending over two years, to penetrate the basic geophysical forces which govern the natural environment in which we live. Under especially favorable conditions, scientists of many nations will work together in extending man's knowledge of the universe. The findings of this research will be widely disseminated throughout the world, aiding in the further development of telecommunications, aviation, navigation, and weather forecasting. It is doubtful whether any single nation could undertake such a program. Acting in concert, each participating nation, contributing within its means, secures the benefits of the program.
The United States has become strong through its diligence in expanding the frontiers of scientific knowledge. Our technology is built upon a solid foundation of basic scientific inquiry, which must be continuously enriched if we are to make further progress. The International Geophysical Year is a unique opportunity to advance science, while at the same time it holds the promise of greater technological gains both for ourselves and for other nations. I am sure that our participation in this far-reaching effort will very materially strengthen our bonds with the many cooperating nations and make a constructive contribution toward the solution of mutual problems.
Sincerely,
DWIGHT D. EISENHOWER
Note: Dr. Barnard's letter, dated June 22 and released with the President's reply, expressed the Board's appreciation for the President's support of the International Geophysical Year program. The White House release containing the exchange of letters stated that on June 7 the President had transmitted to Congress a request for supplemental appropriations for fiscal year 1955 which included a request for $2,500,000 for the National Science Foundation to permit preparations for U.S. participation in the IGY program scheduled for 1957-58.
Dwight D. Eisenhower, Letter to Dr. Chester I. Barnard, Chairman, National Science Board, Concerning United States Participation in the International Geophysical Year. Online by Gerhard Peters and John T. Woolley, The American Presidency Project https://www.presidency.ucsb.edu/node/232243