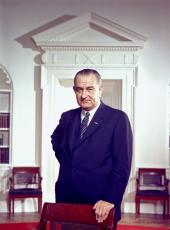 Letter to Defense Contractors on the Need for Cost Reduction.
Dear Mr. ___________
In addressing the Congress last week, I pledged my Administration to the utmost of thrift and frugality, and to get a dollar's value for every dollar spent.
I have directed the heads of all Government agencies to accelerate immediately their efforts to operate their programs at the lowest possible cost. The Secretary of Defense has already established a cost reduction program aimed at achieving annual savings of $4 billion, through efforts now in process or planned by fiscal year 1967, and he has further committed his Department to realizing $1.5 billion of these savings in the current fiscal year. More than 55 cents out of each Defense dollar is spent by its contractors. It is for this reason that I am calling on you 'personally to assist me and the Secretary in achieving further significant reductions in Defense expenditures.
It is my desire that you establish an affirmative program of cost reduction in the performance of Defense contracts, both those which you now hold and those which you may subsequently receive. If you already have such a program in being, then I call on you to accelerate, expand, and intensify this effort.
I have asked the Secretary of Defense to take into account the accomplishments of contractors who successfully reduce the cost of Defense procurement, when making future source selections, and in determining profit and fee rates on noncompetitive negotiated contracts.
I have also discussed this program with the Director of the Budget and the Comptroller General.
The Secretary of Defense's letter elaborating this program is enclosed. It has my fullest endorsement.
LYNDON B. JOHNSON
Note: The President's letter was made public as part of a White House release which stated that identical personal letters were sent to the 7,500 defense contractors who held 90 percent of the prime contracts entered into by the Department of Defense. The Secretary's letter, also released, is dated December 1.
In his letter Secretary McNamara called on the contractors to assist the Department of Defense in achieving its cost reduction objectives by "buying only what is needed by critically appraising procurement specifications to identify both qualitative and quantitative requirements in excess of those needed to assure safe and reliable operation of military equipment. Some Defense contractors now have formal value engineering programs, and such contractors have been able to recommend hundreds of ideas to reduce costs of parts, components and end items by as much as 50 percent. I urge all contractors to stress such critical examinations, and to propose cost savings ideas promptly to Defense officials.
"The second major way in which contractors can reduce Defense costs is by taking steps to assure that their own purchases are made at the lowest sound price. Defense prime contractors spend, on an average, 50 cents of each contract dollar with subcontractors. To the fullest possible extent, such subcontracts should be placed competitively in order to stimulate the full play of the free enterprise system. It is the experience of the Defense Department that for every dollar shifted from noncompetitive to competitive procurement, 25 cents or more can be saved from the price. In placing subcontracts, fixed price and incentive contracts should be employed wherever possible, in order to provide the maximum incentive to subcontractors.
"Thirdly, Defense contractors can reduce the overall cost of Government by assuring that their own internal operations are conducted in the most economical manner. Effective manpower utilization programs to increase productivity; strong budgetary controls to reduce both direct and overhead costs; simplification of procedures; and elimination of unnecessary activities--are all matters with which I know you are constantly concerned. Wherever unreasonable Government requirements are contributing to excess costs, I invite you to call these matters promptly to the attention of the proper Government offices."
In conclusion Secretary McNamara urged that the contractors give their immediate personal attention to these and any other cost reduction ideas which might occur to them, and asked that they join with him in achieving full value for every dollar spent in support of national defense.
Lyndon B. Johnson, Letter to Defense Contractors on the Need for Cost Reduction. Online by Gerhard Peters and John T. Woolley, The American Presidency Project https://www.presidency.ucsb.edu/node/239951