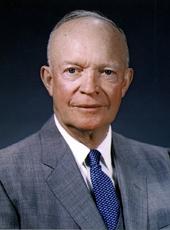 Letter to Dean Sayre Concerning United States Participation in the World Refugee Year.
[Released April 30, 1959. Dated April 28, 1959] Dear Dean Sayre:
I will certainly be happy to sponsor a White House meeting for a discussion of the role which the American people and their government should play in the World Refugee Year beginning in June 1959. I have set May 21 and May 22 for such a meeting, to be held in the Indian Treaty Room of the Executive Office Building under the direction of Deputy Under Secretary of State Loy W. Henderson. It is my plan to invite to it a representative group of private citizens whose interests and experience should prove of utmost value in considering all aspects of this important matter.
It is most gratifying to me that the United States Committee for Refugees has been willing to assume a major responsibility for mobilizing the private resources of this country to meet the objectives of the World Refugee Year. Your efforts, I know, will do much to insure that the response of the American people will be generous, and that the traditional American leadership in the refugee field will be maintained. I will be unable personally to participate in the meeting, but I hope that it will assist in the formulation of specific plans for the World Refugee Year, as I am sure it will assist the government.
I assure you that this Administration will support the World Refugee Year, and will continue to cooperate with our own citizens' groups and with other governments of the free world to help resolve the grave humanitarian problem of refugees.

Sincerely,
DWIGHT D. EISENHOWER
Note: This letter was in reply to one from The Very Reverend Francis B. Sayre, Jr., Dean of the Washington Cathedral and Chairman of the Board of the United States Committee for Refugees. Dean Sayre's letter, in part, follows:
"No time can be lost in planning for United States participation. Accordingly, I was directed to ask you whether you would sponsor a rather informal White House meeting at which members of our Committee and other invited participants could discuss and plan for an American contribution to the Refugee Year. Such a meeting would seem to us to be of equal service to the members of your government and to the American people in general."
World Refugee Year was established by resolution of the United Nations General Assembly, adopted December 5, 1958, calling upon the member nations to cooperate in promoting World Refugee Year as a means of securing increased assistance for refugees throughout the world. On May 19, 1959, the President issued Proclamation 3292 (24 F.R. 4123) providing for United States participation and designating July 1, 1959--June 30, 1960, as World Refugee Year.
Dwight D. Eisenhower, Letter to Dean Sayre Concerning United States Participation in the World Refugee Year. Online by Gerhard Peters and John T. Woolley, The American Presidency Project https://www.presidency.ucsb.edu/node/235581