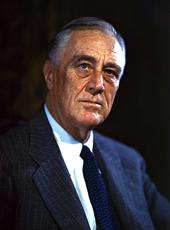 Letter Creating a Crop Insurance Committee.
Dear Mr. Secretary:
Government's long-time drought and land-use program should be completed and put into operation at the earliest possible moment, and immediate steps are to be taken with this objective.
I am appointing two committees of representatives of Federal agencies to head this work, to confer with farm organization leaders and others on the problems and to develop specific programs.
One committee, on which I want you to serve as chairman, and in your absence Dr. A. G. Black, Chief of the Bureau of Agricultural Economics, is to work out a plan of crop insurance. The other, which is to succeed the temporary Great Plains Drought Area Committee, is to work out plans for a land-use program for better permanent protection against drought.
The Crop Insurance Committee will consist of yourself and Dr. Black; H. R. Tolley, Administrator of the Agricultural Adjustment Administration; Wayne C. Taylor, Assistant Secretary of the Treasury; and Ernest G. Draper, Assistant Secretary of Commerce.
The Crop Insurance Committee is directed to prepare a report and recommendations for legislation providing a plan of "all risk" crop insurance. In preparing its report, the Committee should utilize the extensive crop insurance studies now being made in the Department of Agriculture. Final recommendations for legislation should be formulated with the advice and assistance of national farm organization leaders so that the plans can be submitted to Congress with the approval and support of the representatives of the farmers. I suggest that it may be found wise for the first year to limit the application of the plan to one or two major crops as a start. My general suggestions to your Committee follow.
In the past three and one-half years, the Government has helped farmers to meet emergencies of two kinds. The first was a collapse of prices resulting from huge surpluses for which the foreign markets disappeared. The second was a failure of crops in wide areas resulting from drought. Each of these emergencies, except for Government action to assist farmers, would have had devastating consequences to consumers and business as well as to farmers.
The time has come to work out permanent measures guarding farmers and consumers against disasters of both kinds. Crop insurance and a system of storage reserves should operate so that the surpluses of fat years could be carried over for use in the lean years.
Measures of this kind should make three important contributions to the general welfare of the country as a whole: First, protection of the individual farmer's income against the hazards of crop failure or price collapse; second, protection of consumers against shortages of food supplies and against extremes of prices; and third, assistance to both business and employment through providing an even flow of farm supplies and the establishing of stability in farm-buying power. Since 1933, the A.A.A. payments have proved their usefulness to agriculture as well as business in assuring farmers some income both in time of price collapse and in time of crop failure.
I have been impressed by the work of the Department of Agriculture in developing actuarially sound methods for affording farmers the use of the insurance principle in protecting them against hazards which for centuries have handicapped their occupation. I am especially interested in its studies of a plan providing for the payment of premiums and insurance in commodities. This should make it possible to base the premium rates on the productivity of the individual farms as shown by records of past production, a large number of which the A.A.A. county committees already have on file. This method should avoid making farmers of one region pay for the risks of another region. By making this insurance available only to farmers cooperating in farm and soil conservation programs, the plan would be safeguarded from the price dangers which the Federal Farm Board operations invited in the years from 1929 to 1932. By using existing records of cooperating farmers and farm committeemen it would appear that premiums based on risk experience could be as fairly assessed as with existing forms of private insurance.
The expense in the past to Federal, State and local Governments of burdens caused by drought shows it is time to begin using the economical principle of insurance to lessen the financial and human costs of drought in the future.
There should be no question that the welfare of the entire Nation would be served by including, as keystones of our agricultural policy, crop insurance and storage of reserves along with conservation of soil and water, better land use, and increased farm income.
Crop insurance properly worked out should give adequate abundance to consumers even though there are several years of severe drought, while at the same time farmers would be protected from the low prices like those of 1932 which might result from several years of good weather.
I am sending similar letters to Administrator Tolley, Assistant Secretary Taylor, Assistant Secretary Draper, and Dr. Black.
Very sincerely yours,
Honorable Henry A. Wallace,

Secretary of Agriculture,

Washington, D.C.
Franklin D. Roosevelt, Letter Creating a Crop Insurance Committee. Online by Gerhard Peters and John T. Woolley, The American Presidency Project https://www.presidency.ucsb.edu/node/209109