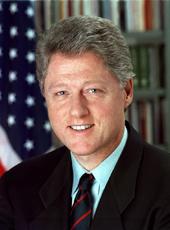 Letter to Congressional Leaders on Welfare Reform
Dear Mr. Leader:
I am glad the Senate has finally come to this important debate on welfare reform. The American people have waited a long time for this. We owe it to the people who sent us here not to let this opportunity slip away by doing the wrong thing or by failing to act at all.
Over the last two and a half years, my Administration has aggressively pursued welfare reform at every turn. We proposed sweeping welfare reform legislation to impose time limits and work requirements and promote the values of work, responsibility, and family. We have put tough child support enforcement at the center of the national welfare reform debate: My Administration collected a record level of child support in 1993—$9 billion—and I signed a farreaching Executive Order to crack down on federal employees who owe child support.
We have put the country on the road to ending welfare as we know it, by approving welfare reform experiments in a record 34 states. Through these experiments, 7 million recipients around the country are now being required to work, pay child support, live at home and stay in school, sign a personal responsibility contract, or earn a paycheck from a business that uses money that was spent on food stamp and welfare benefits to subsidize private sector jobs. Today, my Administration is granting two more waivers to expand successful state experiments in Ohio, which rewards teen mothers who stay in school and sanctions those who don't, and in Florida, which requires welfare recipients to go to work as a condition of their benefits and provides child care when they do.
I am confident that what we're doing to reform welfare around the country is helping to instill the values all Americans share. Now we need to pass a welfare reform bill that ends the current welfare system altogether and replaces it with one that puts work, responsibility, and family first.
That is why I strongly support and urge you to pass the welfare reform bill sponsored by Senators Daschle, Breaux, and Mikulski that is before the Senate today. Instead of maintaining the current broken system which undermines our basic values, the Daschle-Breaux-Mikulski plan demands responsibility and requires people to work. The Work First bill will cut the budget by moving people to work, not by asking states to handle more problems with less money and shipping state and local taxpayers the bill.
I support the Work First plan because welfare reform is first and foremost about work. We should impose time limits and tough work requirements, and make sure that people get the child care they need to go to work. We should reward states for putting people to work, not for cutting people off. We will only end welfare as we know it if we succeed in moving people from welfare to work.
Welfare reform is also about family. That means the toughest possible child support enforcement, because people who bring children into this world should take responsibility for them, not just walk away. It also means requiring teen mothers to live at home, stay in school, and turn their lives around—not punishing children for the mistakes of their parents.
Finally, welfare reform must be about responsibility. States have a responsibility to maintain their own efforts to move people from welfare to work, so that we can have a race to independence, not a race to the bottom. Individuals have a responsibility to work in return for the help they receive. The days of something for nothing are over. It is time to make welfare a second chance, and responsibility a way of life.
We have a ways to go in this welfare reform debate, but we have made progress. I have always sought to make welfare reform a bipartisan issue. The dignity of work, the bond of family, and the virtue of responsibility are not Republican values or Democratic values. They are American values—and no child in America should ever have to grow up without them. We can work toward a welfare reform agreement together, as long as we remember the values this debate is really about.
The attached Statement of Administration Policy spells out my views on the pending legislation in further detail.
Sincerely,
BILL CLINTON
NOTE: Identical letters were sent to Bob Dole, Senate majority leader, and Thomas A. Daschle, Senate Democratic leader.
William J. Clinton, Letter to Congressional Leaders on Welfare Reform Online by Gerhard Peters and John T. Woolley, The American Presidency Project https://www.presidency.ucsb.edu/node/221721