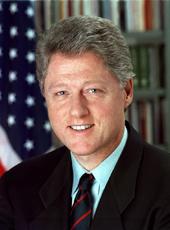 Letter to Congressional Leaders Transmitting the Second Africa Trade and Development Report
Dear __________:
I am pleased to submit the second of five annual reports on the Administration's Comprehensive Trade and Development Policy for Africa as required by section 134 of the Uruguay Round Agreements Act. Our policy seeks to accelerate the pace of sustainable economic development for the countries of Africa.
This Second Africa Trade and Development Report reflects our conviction that economic development in Sub-Saharan Africa will benefit both Africans and Americans. Stronger economies will better enable African nations to address a variety of complex problems that transcend regional boundaries. In an increasingly competitive global economy, the United States cannot afford to neglect a vast region that contains almost 10 percent of the world's population. Our efforts to help Africa develop will also create more export opportunities for U.S. goods and services and more jobs at home. These efforts to strengthen African economies will also reduce the cost in later years for largescale U.S. humanitarian aid and enhance local and regional capacity to address transnational problems that threaten regional stability.
Many African countries have made significant progress in the struggle for development in recent years. With assistance from the World Bank and the International Monetary Fund, more than 30 Sub-Saharan African nations have instituted economic reform programs, and, since 1990, nearly as many have held elections.
Nevertheless, there is much more to be done. The United States and other developed nations must do our part to promote economic growth and development in the region. Additionally, African governments must recognize that the failure of many to open their markets to increased international trade has inhibited regional economic growth.
This second report summarizes the status of ongoing programs discussed in last year's African trade and development report and introduces several initiatives designed to spur investment, development, and trade over the near to medium term. These programs and initiatives seek to achieve five basic objectives set forth in the first report: trade liberalization and promotion, investment liberalization and promotion, development of the private sector, infrastructure enhancement, and economic and democratic reforms implemented by many Sub-Saharan African governments in recent years.
Working with the Congress, the U.S. private sector, the countries of Africa, and our other trading partners, the Administration looks forward to developing additional initiatives to promote trade, investment, and development in Africa.
Sincerely,
WILLIAM J. CLINTON
NOTE: Identical letters were sent to Jesse Helms, chairman, and Joseph R. Biden, Jr., ranking member, Senate Committee on Foreign Relations; William V. Roth, Jr., chairman, and Daniel Patrick Moynihan, ranking member, Senate Committee on Finance; Benjamin A. Gilman, chairman, and Lee H. Hamilton, ranking member, House Committee on International Relations; and Bill Archer, chairman, and Charles B. Rangel, ranking member, House Committee on Ways and Means.
William J. Clinton, Letter to Congressional Leaders Transmitting the Second Africa Trade and Development Report Online by Gerhard Peters and John T. Woolley, The American Presidency Project https://www.presidency.ucsb.edu/node/223613