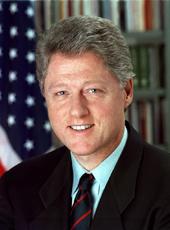 Letter to Congressional Leaders Transmitting the Report on Science, Technology, and American Diplomacy
Dear Mr. Speaker: (Dear Mr. Chairman:)
In accordance with Title V of the Foreign Relations Act of Fiscal Year 1979, as amended (Public Law 95-426; 22 U.S.C. 2656c(b)), I am pleased to transmit this annual report on Science, Technology and American Diplomacy for fiscal year 1993.
Redefining U.S. foreign policy and consolidating the dramatic changes of the last few years represents a significant challenge. In the post-Cold War world, we seek to support democracy and peace, promote sustainable economic growth, and address global problems such as rapid rates of population growth, environmentally unsound energy production and consumption, global climate change, loss of biodiversity, and the spread of AIDS. This report clearly indicates that these problems can be addressed effectively through international cooperation in science and technology.
The 1993 Title V report describes the role of international science and technology cooperation in the implementation of our foreign policy, highlighting a series of themes relevant to important issues affecting U.S. interests overseas, including emerging infections; energy, environment, and economics; and natural disaster reduction. In addition, the report examines science and technology cooperation in two geographic regions, Latin America and Asia, on which the Administration has placed a renewed emphasis.
For the first time the Title V report provides a detailed examination of science and technology in our foreign assistance programs, emphasizing our focus on sustainable development. The United States is well positioned to shape the international agenda for promoting sustainable development, and to leverage other donors and multilateral institutions, through cooperative research programs and assistance in the fields of science and technology.
The report also describes the significant potential for post-Cold War defense cooperation. Research of dual-use technologies has the potential to enhance our economic well-being through the development of new manufacturing processes or marketable products that improve the global competitiveness of American businesses. We face the challenge of seeking deeper collaborative opportunities with our allies that strengthen our technical flexibility and collective security, while securing foreign technologies with distinct advantages for domestic application.
I will ensure that our Federal science and technology investments are at the forefront of our national agenda, that our country maintains its world leadership in science and technology, and that international cooperation in science and technology advances our domestic agenda, while also supporting the objectives of U.S. foreign policy in the post-Cold War era.
Sincerely,
WILLIAM J. CLINTON
NOTE: Identical letters were sent to Thomas S. Foley, Speaker of the House of Representatives; Claiborne Pell, chairman, Senate Committee on Foreign Relations; and John Glenn, chairman, Senate Committee on Governmental Affairs.
William J. Clinton, Letter to Congressional Leaders Transmitting the Report on Science, Technology, and American Diplomacy Online by Gerhard Peters and John T. Woolley, The American Presidency Project https://www.presidency.ucsb.edu/node/218121