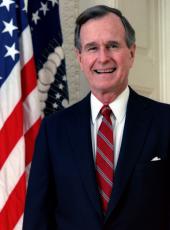 Letter to Congressional Leaders Transmitting a Report on Verification of Nuclear Warhead Dismantlement and Special Nuclear Defense Controls
Dear Mr. Speaker: (Dear Mr. President:)
I am transmitting with this letter a report to the Congress: Verification of Nuclear Warhead Dismantlement and Special Nuclear Material Controls, as required by section 3151 of the National Defense Authorization Act for Fiscal Year 1991. The report reflects the views of a Technical Advisory Committee on the subject defined by Congress: on-site monitoring techniques, inspection arrangements, and national technical means that might be useful to verify the dismantlement of nuclear warheads, a ban on the production of plutonium and highly enriched uranium for nuclear weapons, and the disposition of these materials recovered from dismantled nuclear warheads.
A distinguished panel of Government and nongovernment technical experts was assembled, according to Federal Advisory Committee Act guidelines, to serve as the Technical Advisory Committee under the requirements of the Act. They have summarized their findings in the unclassified Executive Summary, and approve the material presented in the classified full report, initially prepared by the Department of Energy. The Technical Advisory Committee had full independence in expressing their expert opinions on these matters. The Committee was chaired by Ambassador C. Paul Robinson who served as the U.S. Ambassador to the Nuclear Testing Talks.
The mandate to the Committee in the legislation was challenging. It is difficult and potentially misleading to evaluate verification issues in isolation from the details of a potential agreement. Since there are no such agreements drafted, the adequacy of the verification measures could only be discussed in broad and general terms. That said, the report makes clear the difficulties and risks involved. As the Advisory Committee reports, the United States could not effectively verify the number of existing warheads or the amount of special nuclear material currently on hand. We likewise could not have high confidence in discovering clandestine warhead or special nuclear material stockpiles. In addition, the report notes the extreme difficulty of monitoring the many potential paths in which nuclear warheads or special nuclear material could be produced.
The Committee charter was limited to the assessment of technical verification arrangements and techniques, and therefore their report does not address the broader national security implications of the possible outcomes defined in the legislation. The Committee was in unanimous agreement, however, that for any controls regarding warhead demilitarization or special nuclear material production, maintenance of an effective and modern nuclear deterrent must not be compromised.
Sincerely,
George Bush
Note: Identical letters were sent to Thomas S. Foley, Speaker of the House of Representatives, and Dan Quayle, President of the Senate.
George Bush, Letter to Congressional Leaders Transmitting a Report on Verification of Nuclear Warhead Dismantlement and Special Nuclear Defense Controls Online by Gerhard Peters and John T. Woolley, The American Presidency Project https://www.presidency.ucsb.edu/node/265646