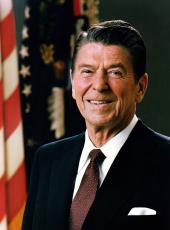 Letter to Congressional Leaders Transmitting a Report on United States and Soviet Compliance With Strategic Arms Control Agreements
Dear Mr. Speaker: (Dear Mr. President:) (Dear Mr. Chairman:)
Enclosed is an unclassified version of a classified report which I provided on June 19 in response to related Congressional requests, including a request for projections and comparisons of U.S. and Soviet strategic force dismantlements, inventories, etc., in terms of adherence to existing arms control agreements.
As I noted in my letter of June 19 transmitting the classified report, it is clear that SALT II and I codified a very major arms buildup including a quadrupling of Soviet strategic weapons (warheads and bombs) since SALT I was signed in 1972 and near doubling of Soviet ballistic missile warheads from about 5,000 to more than 9,000 since SALT II was signed in 1979.
The report further found that the SALT I and II agreements, even if fully complied with, would not prevent a very substantial further expansion of Soviet capabilities. We believe that, absent SALT II, the Soviets would not necessarily expand their forces significantly beyond the increases already projected with SALT II since the Soviet forces are very large and would appear, in our judgment, more than enough to meet reasonable military requirements.
In my letter of June 19, I noted that in view of the adverse implications of Soviet noncompliance for our security and for the arms control process, I had determined on May 27 that, in the future, the United States must base decisions regarding its strategic force structure on the nature and magnitude of the threat posed by Soviet strategic forces, and not on standards contained in the SALT structure which has been undermined by Soviet noncompliance, and especially in a flawed SALT II treaty which was never ratified, would have expired if it had been ratified, and has been violated by the Soviet Union.
I have also noted that the full implementation of the Strategic Modernization Program is critical both to meeting our future national security needs and to appropriately responding to Soviet noncompliance. However, we will exercise utmost restraint. As we modernize, we will continue to retire older forces as national security requirements permit. We do not anticipate any appreciable growth in the size of U.S. strategic forces. Assuming no significant change in the threat, we will not deploy more strategic nuclear delivery vehicles or more strategic ballistic missile warheads than does the Soviet Union.
I want again to emphasize that no policy of interim restraint is a substitute for an agreement on deep and equitable reductions in offensive nuclear arms, provided that we can be confident of Soviet compliance with it. Achieving such reductions continues to receive my highest priority. This is the most direct path to achieving greater stability and a safer world.

Sincerely,
RONALD REAGAN
Note: Identical letters were sent to Thomas P. O'Neill, Jr., Speaker of the House of Representatives; George Bush, President of the Senate; Barry Goldwater, chairman of the Senate Armed Services Committee; and Les Aspin, chairman of the House Armed Services Committee.
Ronald Reagan, Letter to Congressional Leaders Transmitting a Report on United States and Soviet Compliance With Strategic Arms Control Agreements Online by Gerhard Peters and John T. Woolley, The American Presidency Project https://www.presidency.ucsb.edu/node/259473