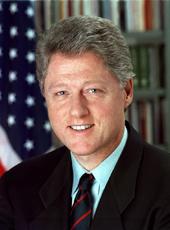 Letter to Congressional Leaders Transmitting a Report on the Comprehensive Trade and Development Policy for Africa
Dear Mr. Chairman:
I am pleased to submit the first of five annual reports on the Administration's Comprehensive Trade and Development Policy for Africa as required by section 134 of the Uruguay Round Agreements Act.
This first report examines the trade and development challenges confronting Sub-Saharan Africa, reviews the policies currently being pursued to address those challenges, and presents a policy framework for the United States as it seeks to support and facilitate African initiatives to address these challenges. With this first report, it is my intention to open a wider dialogue with the Congress, and with public and private sector representatives in Africa and the United States. This dialogue will sharpen the focus of the U.S. role in assisting Africa to meet its development challenges and, in the process, to promote U.S. trade and investment in the region. Subsequent reports to the Congress will highlight progress in implementing new initiatives and reflect the necessary evolution of U.S. policy.
The challenges facing Sub-Saharan Africa are difficult and varied. Solutions will not be easy or quick. The most critical element of any development strategy, upon which the success of all other elements depends, is the willingness of the people and their leaders to make the correct, and often difficult, policy choices. It is this point that gives us cause for optimism about Africa today. Increasingly, democratic governments in Africa are implementing market-based economic policies that are placing their countries on proven paths to success.
We must seize this opportunity for partnership with the countries of Africa because promoting trade and sustainable development in Africa is important for the United States as well as for Africa.
My Administration understands that, in a time of shrinking Federal funding, any strategy to support trade and development in Sub-Saharan Africa will need to rely heavily on increased U.S. commercial involvement in the region. American firms and workers stand to gain a great deal by doing business in Africa. By playing an active role, both in direct commercial relations in the region and in cooperation with the United States Government, the private sector will generate significant benefits for themselves and for the United States and Sub-Saharan Africa as a whole.
I invite the Congress to work closely with my Administration in forging a constructive partnership with the people and leaders of Sub-Saharan Africa to pursue the trade and development objectives that are so clearly in our mutual interests. The people of the United States have a vested interest in Africa's future, and I hope that this report will mark the first step toward a closer dialogue between the Administration and the Congress on this important issue.
I am also pleased to transmit the report prepared by the United States International Trade Commission that my Administration requested on U.S.-African trade and investment flows and the potential for growth.
Sincerely,
WILLIAM J. CLINTON
NOTE: Identical letters were sent to Jesse Helms, chairman, Senate Committee on Foreign Relations; William Roth, chairman, Senate Committee on Appropriations; Benjamin A. Gilman, chairman, House Committee on International Relations; and Bill Archer, chairman, House Committee on Ways and Means.
William J. Clinton, Letter to Congressional Leaders Transmitting a Report on the Comprehensive Trade and Development Policy for Africa Online by Gerhard Peters and John T. Woolley, The American Presidency Project https://www.presidency.ucsb.edu/node/222368