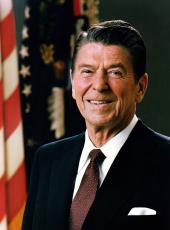 Letter to Congressional Leaders on the Sale of AWACS and Other Air Defense Equipment to Saudi Arabia
One of the essential elements of the Administration's Southwest Asia strategy will come before Congress for review in the near future. It is to provide Saudi Arabia with a package of equipment and training to improve its air defense capabilities. The package will include five E3A AWACS aircraft as well as enhancements for the F-15 aircraft which we have agreed to provide.
I am convinced that providing Saudi Arabia with this equipment will improve the security of our friends, strengthen our own posture in the region, and make it clear both to local governments and to the Soviet leadership that the United States is determined to assist in preserving security and stability in Southwest Asia.
We have not previously submitted this package to the Congress, although it was decided upon in principle some time ago, for two reasons: the priority we needed to place on securing passage of our economic program, and the necessity of working out a set of understandings with the Saudi leadership which will ensure that the equipment provided will be employed to our mutual benefit and that the U.S. technology and systems involved will be fully protected.
I am aware that information from a variety of sources has been circulating on Capitol Hill regarding this sale and that many Members have been under some pressure to take an early position against it. I hope that no one will prejudge our proposal before it is presented. We will make a strong case to the Congress that it is in the interest of our country, the Western Alliance and stability in the Middle East. Meanwhile, as the Congress prepares for its August recess, I would appreciate your support and assistance in urging that Members do not prejudge this important issue until they have had the opportunity to hear the Administration's views.

Sincerely,
RONALD REAGAN
Note: This is the text of identical letters addressed to Senate Majority Leader Howard H. Baker, Jr., Senate Minority Leader Robert C. Byrd, Speaker of the House of Representatives Thomas P O'Neill, Jr., and House Minority Leader Robert H. Michel.
Ronald Reagan, Letter to Congressional Leaders on the Sale of AWACS and Other Air Defense Equipment to Saudi Arabia Online by Gerhard Peters and John T. Woolley, The American Presidency Project https://www.presidency.ucsb.edu/node/246809