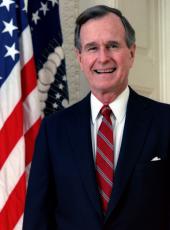 Letter to Congressional Leaders on the National Strategy on the Environment
Dear Mr. Speaker: (Dear Mr. President:)
During the past 4 years, the world has witnessed major changes in the political profile of nations. The Earth Summit, sponsored by the United Nations in Brazil in June 1992, signaled the next era in world history--one characterized by the recognition that environmental protection, economic development, and public participation in decision-making are interrelated and crucial to our future quality of life.
In these last 4 years, the United States charted an ambitious agenda to remain in the vanguard of environmental protection by harnessing the energy of capitalism in service of the environment. Those who said that we posed a false choice between a strong economy and a healthy environment disregarded our words and our deeds. We worked to achieve both while sacrificing neither--as must all nations in the coming century.
Economic development and environmental protection go hand in hand. Economic growth supplies the financial and technological resources necessary for environmental enhancement; while its opposite, the struggle for bare survival, places strains on natural protection. We have seen this phenomenon in America as our economy grew in the 1980s and waters and skies became cleaner, just as we have seen it in the degraded [p.2247] forests and rivers of Eastern Europe and in the faces of Africa's starving children. The challenge for leaders in all parts of the world is to ensure both economic growth and environmental progress at the same time.
A Strategy That Produced Results
The pioneer American conservationist, Gifford Pinchot, once remarked, "There are just two things on this material earth-people and natural resources." Human beings are not intruders in nature but an essential species with a responsibility to sustain other species.
The Bush Administration combined an understanding of human nature with an idealism about Mother Nature in developing a National Strategy for Environmental Quality, based on six goals:
• Harnessing the power of the marketplace;
• Managing natural resources as responsible stewards;
• Promoting creative partnerships;
• Developing cooperative international solutions;
• Preventing pollution before it starts;
• Enforcing environmental laws firmly and fairly.
And the strategy worked. In just 4 years, consider what has been accomplished:
Clean Air Act Amendments of 1990: We broke 10 years of congressional gridlock to enact the world's most protective and cost-effective clean air legislation. At its heart is an innovative, market-based, emission-allowance trading system. During the past 2 years, we proposed and finalized rules that promise to achieve 85 percent of the anticipated pollution reductions.
Budgets: By shifting Federal funds from other programs to environmental programs, we were able to increase the operating budget of the Environmental Protection Agency by more than 50 percent and increase funding for clean energy research and development by 66 percent.
Pollution Prevention: Market-driven pollution prevention efforts by the private sector are reshaping American industries, making us leaner and more efficient. For example, under just one Administration initiative, the EPA 33/50 program, more than 900 companies have reduced releases and transfers of toxic chemicals by 347 million pounds--25 percent below the 1988 baseline, with enormous savings in operating costs.
Enforcement: We broke new ground and old records, filing more cases, collecting more penalties, and putting more polluters behind bars than every previous administration in history combined.
Public Lands: We helped make America's great outdoors even greater by investing over a billion dollars to acquire wetlands, improve campgrounds, and add half a million acres to our national parks and 1,200 miles to our Wild and Scenic Rivers System. We created 57 new wildlife refuges--more than any administration in history. We adopted a philosophy of ecosystem management and ended clear-cutting as a standard practice on Federal land. The America the Beautiful initiative got off to a good start with the planting of more than 225 million new trees in rural and urban areas across the Nation.
Coasts and Oceans: To ensure that America's seas always will shine, we ended the ocean dumping of sewage sludge. We proposed and won passage of the Oil Pollution Act of 1990, a vigorous antipollution measure. To protect our ecologically sensitive coastal areas, we imposed a 10-year moratorium on oil and gas leasing and added six national marine sanctuaries, including the Monterey Bay sanctuary off California-which is second only to Australia's Great Barrier Beef as the largest marine protected area in the world.
Energy: We launched a new generation of clean energy technologies, not only by increasing funding for research and development but also by increasing incentives for the application of new technologies. We proposed and won passage of comprehensive national energy legislation with the Energy Policy Act of 1992, an act that will guide the United States into the next century.
Federal Leadership: We tripled funding for Federal facility cleanups, especially at nuclear weapons manufacturing sites, and secured more than 100 enforceable cleanup agreements at Federal facilities. Executive [p.2248] orders spurred the Federal Government to speed improvements in energy efficiency, recycling, waste reduction, and conversion of the Federal fleet to alternative fuels.
International Leadership: We insisted that a new world order include a cleaner world environment and reached 27 new international environmental agreements. We made America the world leader in phasing out ozone-depleting chlorofluorocarbons (CFCs) and led the way to a global ban on driftnet fishing. We launched a Forests for the Future initiative that proposed doubling international aid for forest conservation as a step toward halting global deforestation and dieback. We reduced Poland's debt to help that"nation hind a new environmental foundation, and we launched the East-West Environmental Center in Budapest, Hungary, to help countries in Central and Eastern Europe. We addressed environmental protection in trade negotiations with Mexico, expanded debt-for-nature swaps to protect rain forests in Latin America, and created a network for environmental cooperation with Asia.
Global Climate Change: Our comprehensive action-oriented approach to global climate change was adopted by the world community at the United Nations Conference on Environment and Development in Brazil and ratified unanimously by the United States Senate. The United States was the first industrialized nation to ratify the treaty and the first nation to set forth its action plan to reduce greenhouse gas emissions.
President's Commission on Environmental Quality (PCEQ): This Presidential commission was unique because it was not created to provide advice but rather to demonstrate innovative ideas through action. Over the last 18 months, PCEQ built a network of more than 200 organizations to design and carry out 10 voluntary initiatives on such issues as biodiversity, energy efficiency, education and training, and environmental management.
President's Environment and Conservation Challenge Awards: We established a Presidential medal to honor those who honor the environment. Medal recipients have forged innovative solutions across the environmental spectrum from agriculture to manufacturing to small business, from the classroom to the great outdoors and back to the inner city. Their good deeds have improved our Nation's air, water, and lands.
Why the Strategy Worked
Too often, the Federal Government has adopted goals with little regard to costs, practicality, or actual degree of risk. At times our environmental laws and regulations have been unnecessarily costly and punitive, especially for small business and communities.
That is why our environmental strategy was based on concepts that will make environmental protection a practical goal, consistent with economic growth. In an era of large Federal deficits and intense international economic competition, our country cannot afford policies that ignore costs.
A free society needs sensible regulation; our emphasis on market incentives and voluntary collaboration was credible because of its link to vigorous law enforcement, which motivated businesses to be innovative. But we cannot rely solely on the legislate-regulate-litigate pattern of the past. That approach will waste more time and money than it saves, hurting our economy and environment in the process.
Looking Forward
Our national environmental strategy has produced lasting benefits that prepare the stage for additional progress in the future. These and many other accomplishments in environmental quality are possible within the coining decades:
I look forward to a time when our natural vistas and urban skylines are never obscured by smog.
I look forward to the day when all industrial corporations can improve their energy efficiency and eliminate toxic discharges into the environment, at a profit.
I look forward to a less contentious era when ecologists, business people, and community leaders collaborate in finding ways to protect species and ecosystems without sacrificing an area's long-term economic development potential.
I look forward to the day when our scientists can tell us how to reorient regulations toward problems that pose the greatest risks to human health and the environment. A more scientific approach to setting priorities could save the country many billions of dollars while focusing on the greatest risks.
I look forward to the day when trade agreements are routinely matched by closer environmental cooperation. Trade liberalization is crucial to the growth of America and every nation in the 21st century, and growth is the key to greater environmental protection. Trade-environmental linkages are a practical way to realize sustainable development, especially for the developing nations that need it so desperately.
In the years ahead, we can take pride in what the American people helped us accomplish to protect our environment. We can be comforted by the knowledge that the next generation will continue the work we started to leave a better world.
Sincerely,

GEORGE BUSH
Note: Identical letters were sent to Thomas S. Foley, Speaker of the House of Representatives, and Dan Quayle, President of the Senate.
George Bush, Letter to Congressional Leaders on the National Strategy on the Environment Online by Gerhard Peters and John T. Woolley, The American Presidency Project https://www.presidency.ucsb.edu/node/266537