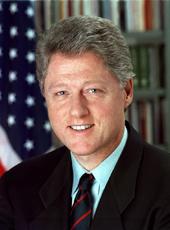 Letter to Congressional Leaders on the Military Strikes Against Iraq
Dear Mr. Speaker: (Dear Mr. President:)
At approximately 5:00 p.m. eastern standard time on December 16, 1998, at my direction, U.S. military forces conducted missile and aircraft strikes in Iraq in response to Iraqi breaches of its obligations under resolutions of the United Nations Security Council. The strikes will degrade Iraq's ability to develop and deliver weapons of mass destruction (WMD) and its ability to threaten its neighbors. This action, carried out in concert with military forces of the United Kingdom, enjoys the support of many of our friends and allies. It is consistent with and has been taken in support of numerous U.N. Security Council resolutions, including Resolutions 678 and 687, which authorize U.N. Member States to use "all necessary means" to implement the Security Council resolutions and to restore peace and security in the region and establish the terms of the cease-fire mandated by the Council, including those related to the destruction of Iraq's WMD programs.
United States strikes are ongoing. United States forces have targeted facilities that are actively involved in WMD and ballistic missile activities, or pose a threat to Iraq's neighbors or to U.S. forces conducting this operation.
At the same time I ordered the strikes, I authorized the deployment of additional U.S. forces to Southwest Asia. These forces include U.S. Army, U.S. Navy, and U.S. Air Force units to reinforce those forces already present in the region. These forces will remain in the region as long as is necessary to protect the national security interests of the United States.
I directed these actions pursuant to my authority under the Constitution as Commander in Chief and as Chief Executive, and to conduct U.S. foreign relations, as well as under the Authorization for Use of Military Force Against Iraq Resolution (Public Law 102-1) enacted in January 1991.
I am providing this report as part of my efforts to keep the Congress fully informed, consistent with Public Law 102-1. I appreciate the support of the Congress as we continue to take all necessary steps to secure Iraqi compliance with U.N. Security Council resolutions.
Sincerely,
BILL CLINTON
NOTE: Identical letters were sent to Newt Gingrich, Speaker of the House of Representatives, and Strom Thurmond, President pro tempore of the Senate.
William J. Clinton, Letter to Congressional Leaders on the Military Strikes Against Iraq Online by Gerhard Peters and John T. Woolley, The American Presidency Project https://www.presidency.ucsb.edu/node/225852