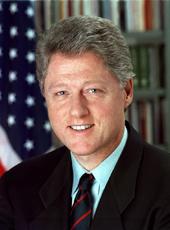 Letter to Congressional Leaders on Somalia
Dear Mr. Speaker: (Dear Mr. President:)
In my letter to you of June 10, 1993, regarding the deployment of U.S. Armed Forces to Somalia, I reported on the deplorable June 5 attacks on United Nations Operation in Somalia forces (UNOSOM II) instigated by one of Somalia's factional leaders. I also reported to you that on June 6, 1993, the U.N. Security Council adopted Resolution 837, which strongly condemned the unprovoked June 5 attacks that left 23 Pakistani peacekeepers dead. In addition, the Security Council reemphasized the crucial importance of the disarmament of all Somali parties, and reaffirmed the Secretary General's authority under Chapter VII of the U.N. Charter "to take all necessary measures against those responsible for the armed attacks [of June 5], including against those responsible for publicly inciting such attacks, to establish the effective authority of UNOSOM II throughout Somalia, including to secure the investigation of their actions and their arrest and detention for prosecution, trial and punishment."
Since that time, the United Nations has acted resolutely to restore order in Mogadishu and to protect U.N. forces. These actions have ensured that the world community's crucial humanitarian efforts in Somalia and the national reconciliation process in that country will continue to move forward. In view of these developments (in particular the role of U.S. Armed Forces in the recent U.N.-led activities in Somalia), and because of my desire that the Congress be kept fully informed regarding significant deployments of U.S. Armed Forces, I am providing this supplement to my earlier report.
In planning appropriate measures to respond to the violence and to implement the Security Council's mandate, the United Nations was able to draw upon the superb capabilities of the U.S. Armed Forces that remained in Somalia following the transition to UNOSOM II. In addition to the logistics and other support personnel assigned to UNOSOM II, the Quick Reaction Forces (QRF)—under U.S. operational control was available to assist UNOSOM II during emergencies. At the height of the U.S.-led Unified Task Force (UNITAF) operations, just over 25,000 U.S. Armed Forces personnel were deployed to Somalia. Consistent with U.S. policy objectives, the current smaller U.S. contribution of approximately 4,400 personnel reflects the increased participation by other U.N. Member States.
United States Armed Forces played an extremely important role in the successful efforts of UNOSOM II to restore stability to the area and to enable U.N. humanitarian operations in Somalia to proceed. First, after determining that the leadership of one of Somalia's factions had planned and incited the June 5 attacks on U.N. peacekeepers, UNOSOM II initiated air and ground military operations in the early morning hours of June 12. Primary targets included weapons and ordnance caches and a radio facility that had been used to foment violence towards U.N. forces and opposition to implementation of the Security Council's humanitarian mandate in Somalia. United States fixed-wing and helicopter aircraft operating as part of the QRF, in support of UNOSOM II, destroyed or disabled those targets in a well-planned effort consistent with the Security Council's disarmament objectives and the mandate to restore security. United States forces sustained no casualties.
On June 17, the Special Representative of the Secretary General, acting pursuant to Security Council Resolution 837, ordered the arrest of General Mohammed Farah Aideed for alleged criminal acts against UNOSOM II peacekeeping forces on June 5. In addition, UNOSOM II forces conducted further coordinated ground and air operations designed to search, clear, and disarm the factional stronghold of General Aideed in south Mogadishu that posed a continuing threat to U.N. operations. Ground and aerial broadcasts warned civilians to leave the area. Targets included weapons and ammunition caches, command and control facilities, and defensive positions. Once again, the U.S. QRF, in support of UNOSOM II, conducted air attacks, followed by search and clearing operations on the ground by non-U.S. UNOSOM II military personnel. Only one U.S. military member sustained minor injury, although there were several deaths and a number of injuries among UNOSOM II forces from other nations due to resistance by militia units and sniper fire. Although Aideed has not yet been arrested, the June 17 operation accomplished the objective of securing Aideed's compound and neutralizing military capabilities that had posed a major obstacle to U.N. efforts to deliver humanitarian relief, facilitate political reconciliation, and promote national reconstruction.
We now see renewed opportunity for UNOSOM II to move forward steadily towards fulfillment of the humanitarian mandate of the Security Council that is shared by the world community. By countering the lawless, unprovoked violence against U.N. peacekeepers, the United Nations has gone far towards preserving the credibility and security of peacekeeping forces in Somalia and throughout the world. United States forces remain on guard along with those of our U.N. partners to counter any threats to the important U.N. mission in Somalia, should they arise.
As before, I remain committed to ensuring that the Congress is kept fully informed on U.S. peacekeeping contributions and the use of U.S. Armed Forces for these vital purposes. I look forward to continuing discussions and close cooperation with you on these and related issues.
Sincerely,
WILLIAM J. CLINTON
NOTE: Identical letters were sent to Thomas S. Foley, Speaker of the House of Representatives, and Robert C. Byrd, President pro tempore of the Senate.
William J. Clinton, Letter to Congressional Leaders on Somalia Online by Gerhard Peters and John T. Woolley, The American Presidency Project https://www.presidency.ucsb.edu/node/219444