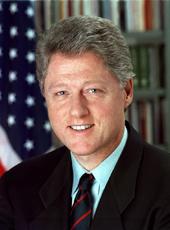 Letter to Congressional Leaders Reporting on the Situation in Sierra Leone and the Deployment of United States Forces
Dear Mr. Speaker: (Dear Mr. President:)
Military forces of the Government of Sierra Leone and Military Observer Group (ECOMOG) forces provided by the Economic Community of West African States (ECOWAS) were engaged in military operations in Sierra Leone against the insurgent Revolutionary United Front (RUF) until mid-1999. At that time, the Government of Sierra Leone and the RUF signed the Lome Peace Agreement, which provides for an end to hostilities and the disarmament, demobilization, and resettlement of the insurgent RUF forces. The United Nations Security Council in U.N. Security Council Resolutions 1270 and 1289 established the United Nations Mission in Sierra Leone (UNAMSIL) to facilitate implementation of the Lome Agreement and provide security at key locations and government buildings and at all sites of the disarmament, demobilization, and reintegration program, among other tasks.
Recently, as UNAMSIL expanded its efforts to establish monitoring and disarmament sites in or near RUF-controlled territory, RUF forces initiated military activity in those areas, killing at least four peacekeepers, and capturing or isolating hundreds of UNAMSIL personnel. The situation is critical. The United States is consulting with the United Nations, members of the U.N. Security Council, troop-contributing countries and West African States on ways to resolve the crisis.
The U.S. Embassy in Sierra Leone has drawn down its Embassy personnel and evacuated U.S. citizens to minimize the number of U.S. citizens exposed to risk. The Ambassador and a small support staff will remain in Freetown for the time being to monitor the situation. As a prudent planning measure, a U.S. coastal patrol vessel, USS THUNDERBOLT (PC 12), has deployed to the region to participate in an evacuation operation of U.S. personnel should such action become warranted. This vessel and her crew are equipped with the normal complement of weapons.
The United Kingdom informed us that it was deploying an aircraft carrier and an amphibious readiness group to Sierra Leone to prepare to participate in evacuation operations if necessary. Some of the units identified to participate in such an operation include U.S. military personnel on exchange programs with the British military. The British government requested permission for a small number of U.S. military exchange personnel to deploy with their units if they were directed to participate in evacuation operations in Sierra Leone. Secretary of Defense Cohen has authorized these U.S. exchange personnel to deploy to Sierra Leone with their host units in support of these activities.
On May 12, a U.S. C-17 aircraft is scheduled to deliver urgently required ammunition and other supplies and equipment to Sierra Leone for the Jordanian contingent in UNAMSIL. The United States will provide further transportation support for the U.N. mission and its contingents. Such transportation support may result in the temporary presence of logistics aircraft and associated support personnel, including, as appropriate, force protection elements at the international airport near Freetown. In addition, the United States has sent an advance party of military logistics planners of the U.S. European Command to Nigeria to discuss with Nigerian officials their specific airlift requirements should it become necessary to move military forces from Nigeria into Sierra Leone.
These actions have been taken pursuant to my constitutional authority to conduct U.S. foreign relations and as Commander in Chief and Chief Executive. I am providing this report as part of my efforts to keep the Congress fully informed, consistent with the War Powers Resolution. I appreciate the support of the Congress in these matters.
Sincerely,
WILLIAM J. CLINTON
NOTE: Identical letters were sent to J. Dennis Hastert, Speaker of the House of Representatives, and Strom Thurmond, President pro tempore of the Senate. This letter was released by the Office of the Press Secretary on May 15.
William J. Clinton, Letter to Congressional Leaders Reporting on the Situation in Sierra Leone and the Deployment of United States Forces Online by Gerhard Peters and John T. Woolley, The American Presidency Project https://www.presidency.ucsb.edu/node/227633