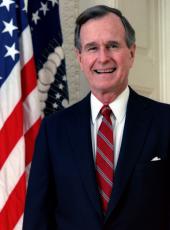 Letter to Congressional Leaders Reporting on the Cyprus Conflict
Dear Mr. Speaker: (Dear Mr. Chairman:)
In accordance with Public Law 95 - 384 (92 Stat. 739; 22 U.S.C. 2373(c)), I am submitting to you this bimonthly report on progress toward a negotiated settlement of the Cyprus question.
This report covers the period from mid-March through mid-May 1990, a time marked by intense activity in both Cypriot communities, as well as international efforts at resuming direct intercommunal negotiations.
In northern Cyprus elections were held on April 22 and May 6, 1990, which reconfirmed the positions of leadership and authority long held by Mr. Rauf Denktash and the Turkish Cypriot National Unity Party, respectively. Observers have since interpreted these electoral successes as endorsements by the Turkish Cypriot community of existing Turkish Cypriot policies and intercommunal negotiating positions.
In the south, the arrest of a Greek Cypriot youth who crossed into northern Nicosia, defaced a public building, and was arrested and jailed by the Turkish Cypriot police led to a series of demonstrations by Greek Cypriot students along the U.N.-controlled buffer zone. These demonstrations and protests intensified as the intercommunal negotiations in New York ended in early March without a positive result. For some days the checkpoint near the Ledra Palace was closed, thus effectively blocking travel between the two communities on Cyprus. In addition, a handful of young Greek Cypriots managed to dart through the lines and commit small acts of vandalism, which led to further arrests and jailings by Turkish Cypriot authorities. Several of these Greek Cypriots remain in northern Cyprus jails.
While elections and heightened tensions were the order of the day in Cyprus, strong efforts continued by the United Nations Secretary General, supported by the United States and others, to find a way to restart direct intercommunal negotiations aimed at completing an outline for a Cyprus settlement. Toward this end, I discussed the Cyprus situation personally with Prime Minister Thatcher during our meeting in Bermuda in early April, and my Cyprus Coordinator, Ambassador Nelson Ledsky, held 4 hours of talks with President Vassiliou in New York in late April.
During this same time period the United Nations Secretary General met separately with the Turkish Foreign Minister and President Vassiliou of Cyprus. There were also extensive conversations about Cyprus during President Vassiliou's official visit to Canada on April 30 - May 1.
Finally, on May 15, I nominated to the Senate Robert E. Lamb, a distinguished career Foreign Service Officer, as Ambassador to Cyprus.
Sincerely,
George Bush
Note: Identical letters were sent to Thomas S. Foley, Speaker of the House of Representatives, and Claiborne Pell, chairman of the Senate Foreign Relations Committee.
George Bush, Letter to Congressional Leaders Reporting on the Cyprus Conflict Online by Gerhard Peters and John T. Woolley, The American Presidency Project https://www.presidency.ucsb.edu/node/264458