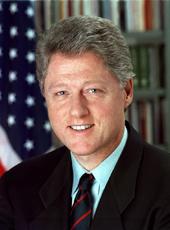 Letter to Congressional Leaders Reporting on the Civil War in Liberia
Dear Mr. Speaker: (Dear Mr. President:)
On April 4, 1996, small arms and mortar fire broke out in Monrovia, Liberia, apparently as the result of renewed fighting between factions led by Charles Taylor and Roosevelt Johnson involved in the civil war in that country. On April 5, groups of angry civilians set up makeshift checkpoints near the international airport and within the city to protest the destruction of their property by the warring factions. On April 6, the American Embassy began receiving calls from American citizens reporting weapons fire and the movement of large groups of armed individuals in the city. Further violence, including reported hostage-taking, has continued.
On April 9, due to the deterioration of the security situation and the resulting threat to American citizens, I ordered U.S. military forces to conduct the evacuation from Liberia of private U.S. citizens and certain third-country nationals who have taken refuge in the U.S. Embassy compound wishing to leave. U.S. military security assessment and enhancement teams deployed to Monrovia the same day in order to reinforce and assist the American Embassy. Evacuation operations commenced shortly thereafter. The evacuation, designated Operation Assured Response, is being carried out using MH- 53 helicopters staged from Freetown, Sierra Leone. A small number of U.S. military aircraft are supporting this operation from Dakar, Senegal. Approximately 140 military personnel from the U.S. European Command's Special Operations Command are involved in this operation and are backed up by forces from the Southern European Task Force, U.S. Army, Europe. I have also ordered the deployment of U.S. Navy amphibious forces to the region to transport evacuees, if required.
Although U.S. military forces participating in the evacuation are equipped for combat, the evacuation is being undertaken for the purpose of protecting American citizens and is not intended to alter or preserve the existing political status quo in Liberia. I therefore expect that this operation will be of limited duration. A number of our helicopters have been fired upon, but have not been hit.
I have taken this action pursuant to my constitutional authority to conduct the foreign relations of the United States and as Commander in Chief and Chief Executive.
I am providing this report as part of my efforts to keep the Congress fully informed, consistent with the War Powers Resolution. I appreciate the support of the Congress in this action to protect American citizens.
Sincerely,
WILLIAM J. CLINTON
NOTE: Identical letters were sent to Newt Gingrich, Speaker of the House of Representatives, and Strom Thurmond, President pro tempore of the Senate. This letter was released by the Office of the Press Secretary on April 12.
William J. Clinton, Letter to Congressional Leaders Reporting on the Civil War in Liberia Online by Gerhard Peters and John T. Woolley, The American Presidency Project https://www.presidency.ucsb.edu/node/223195