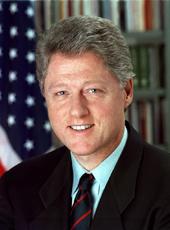 Letter to Congressional Leaders Reporting on Bosnia-Herzegovina
Dear Mr. Speaker: (Dear Mr. President:)
In my report to the Congress of November 22, 1994, I provided further information on the deployment of U.S. combat-equipped aircraft to support efforts of the United Nations and the North Atlantic Treaty Organization (NATO) to achieve peace and stability in Bosnia-Herzegovina. On December 22, 1994, I also provided my fourth report on the continuing deployment of a U.S. Army peacekeeping contingent as part of the U.N. peacekeeping mission in the Former Yugoslav Republic of Macedonia. I am now providing this follow-up report, consistent with the War Powers Resolution, to ensure that the Congress is kept informed about important U.S. contributions in support of multilateral efforts in the former Yugoslavia.
U.S. combat-equipped fighter aircraft and other support aircraft continue to contribute to NATO's enforcement of the no-fly zone in the airspace over Bosnia-Herzegovina. In accordance with U.N. Security Council Resolutions 781, 786 and 816, this operation has since April 1993, enforced a ban on flights not authorized by the United Nations Protection Force (UNPROFOR). Enforcement of the no-fly zone, has resulted in the almost complete elimination of fixed-wing air to ground bombing and other air combat activity within the zone thereby greatly limiting the scope of the conflict in the region. Military personnel from 11 other NATO member nations have joined us in this effort, which has involved almost 60,000 sorties since the operation began. U.S. forces currently assigned to this operation consist of approximately 100 tactical aircraft as well as supporting tanker and other support aircraft.
The U.N. Security Council has established safe areas in Bosnia-Herzegovina and has authorized Member States and regional organizations, in close coordination with the United Nations, to take all necessary measures, through the use of air power, to support UNPROFOR in its mandate related to the safe areas. The Council has also authorized Member States and regional organizations, in close coordination with the United Nations, to take all necessary measures to extend close air support to protect U.N. forces in Croatia. More than 70 U.S. aircraft, including those identified above, are available for participation in authorized NATO missions for these purposes.
On March 31, 1995, the Security Council separated UNPROFOR into three operations: The United Nations Confidence Restoration Operation in Croatia (UNCRO); The United Nations Preventive Deployment Force (UNPREDEP) in the former Yugoslav Republic of Macedonia; and UNPROFOR in Bosnia-Herzegovina. A U.S. Army contingent remains deployed as part of UNPREDEP. Through observation and monitoring along the Serbian border, UNPREDEP continued to be effective in preventing the Balkan conflict from spreading and thereby contributes to the stability of the region. The approximately 500 U.S. soldiers contributing to this mission are assigned to the 3rd Battalion, 12th Infantry, 1st Armored Division, Baumholder, Germany.
In addition to these operations, U.S. forces have conducted more than 4,300 missions in support of the U.N. High Commissioner for Refugees airlift to Sarajevo. U.S. medical and other support personnel continue to provide critical services in support of UNPROFOR and UNCRO. U.S. naval forces are also continuing to assist in enforcing U.N. sanctions, subject to the restrictions of the Nunn-Mitchell Amendment, as part of NATO's participation in Operation SHARP GUARD.
The United States strongly favors a continued U.N. peacekeeping presence in the former Yugoslavia and a continuation of negotiations through the Contact Group. However, given the increase in fighting in Bosnia-Herzegovina and Croatia, it may become necessary for NATO to assist in the withdrawal of peacekeepers from these areas. Because of the significant period of time needed to prepare and deploy the necessary forces to support such a withdrawal, our senior military commanders recommended that we take certain steps now to preposition the necessary communications network in order to be prepared to meet this contingency. Accordingly, on April 6, 1995, the North Atlantic Council authorized the Supreme Allied Commander for Europe to assemble, train and deploy into Croatia 80 communications personnel. Twenty U.S. soldiers are participating in this operation.
These continuing efforts are being taken in conjunction with our allies to implement the decisions of the U.N. Security Council and the North Atlantic Council and to assist the parties to reach a negotiated settlement to the conflict. I have directed the participation of U.S. Armed Forces in these operations pursuant to my constitutional authority to conduct U.S. foreign relations and as Commander in Chief, and in accordance with various statutory authorities.
I am providing this report as part of my efforts to keep the Congress fully informed, consistent with the War Powers Resolution. I am grateful for the continuing support that the Congress has provided, and I look forward to continued cooperation with you in this endeavor. I shall communicate with you further regarding our efforts to foster peace and stability in the former Yugoslavia.
Sincerely,
WILLIAM J. CLINTON
NOTE: Identical letters were sent to Newt Gingrich, Speaker of the House of Representatives, and Strom Thurmond, President pro tempore of the Senate.
William J. Clinton, Letter to Congressional Leaders Reporting on Bosnia-Herzegovina Online by Gerhard Peters and John T. Woolley, The American Presidency Project https://www.presidency.ucsb.edu/node/221643