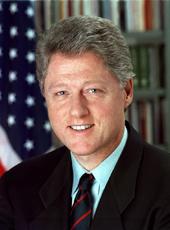 Letter to Congressional Leaders Reporting on Airstrikes Against Serbian Targets in the Federal Republic of Yugoslavia (Serbia and Montenegro)
Dear Mr. Speaker: (Dear Mr. President:)
I reported to the Congress on March 26, 1999, on the participation of U.S. military forces in the series of air strikes conducted by NATO in the Federal Republic of Yugoslavia (FRY) in response to the FRY government's campaign of violence and repression against the ethnic Albanian population in Kosovo. Since my report on March 26, there have been dramatic and very serious developments in the FRY. Belgrade's sustained and accelerating repression is creating a humanitarian disaster of staggering dimensions. Estimates now are that well over one million Kosovars have been displaced from their homes and villages. At this time, more than 400,000 Kosovars are in Albania, Macedonia, and Montenegro.
The worsening instability in Kosovo directly threatens peace in the region. We will continue to intensify our actions to achieve the objectives I described in my report to the Congress of March 26 and to support the international relief efforts being conducted in the region. I have directed U.S. military forces to deploy to Albania and Macedonia in order to support humanitarian disaster relief operations for the Kosovar refugees. These relief efforts will include delivering food and supplies, constructing shelters, providing coordination and assisting in logistics movement of displaced persons and relief supplies, and when necessary, providing protection for displaced persons and relief supplies. As a force protection measure, the U.S. military forces will be equipped for combat.
Separate from this effort, I have also ordered additional U.S. forces to Albania. These forces consist of rotary wing aircraft, artillery, and tactical missile systems and will be stationed in Albania to provide a deep strike task force to enhance NATO's ability to conduct effective air operations in the FRY. Approximately 2,500 soldiers and aviators will deploy as part of this task force. The mission of the force does not include deploying into the FRY.
It is not possible to predict how long either of these operations will continue. The duration of the deployments depend upon the course of events in Kosovo, and in particular, on Belgrade's conduct with respect to its campaign of ethnic cleansing and the duration of the threat posed to peace and security in the region. It is our objective to transfer responsibilities for the relief effort to other organizations over time, and to redeploy those U.S. forces, in all circumstances, as soon as the situation permits.
I have taken these actions pursuant to my constitutional authority to conduct U.S. foreign relations and as Commander in Chief and Chief Executive. In doing so, I have taken into account the views and support expressed by the Congress in S. Con. Res. 21 and H. Con. Res. 42.
I am providing this report as part of my efforts to keep the Congress fully informed, consistent with the War Powers Resolution. I appreciate the continued support of the Congress in this action.
Sincerely,
WILLIAM J. CLINTON
NOTE: Identical letters were sent to J. Dennis Hastert, Speaker of the House of Representatives, and Strom Thurmond, President pro tempore of the Senate.
William J. Clinton, Letter to Congressional Leaders Reporting on Airstrikes Against Serbian Targets in the Federal Republic of Yugoslavia (Serbia and Montenegro) Online by Gerhard Peters and John T. Woolley, The American Presidency Project https://www.presidency.ucsb.edu/node/228855