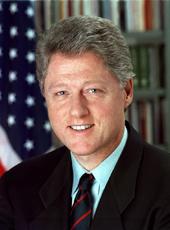 Letter to Congressional Leaders on Reauthorization of the Ryan White CARE Act
Dear Mr. Speaker: (Dear Mr. Leader:)
I am writing to urge you to lead the Congress in passing the reauthorization of the Ryan White CARE Act before the summer recess. We cannot allow this crucial program to lapse.
There is strong bipartisan support for the Ryan White CARE Act. The initial legislation was approved by overwhelming margins in both houses (95-4 in the Senate and 408-14 in the House) and signed into law by President Bush. Funding for this program has been endorsed from both sides of the aisle throughout the five years of the program and the reauthorization bill in the Senate has 60 co-sponsors. It is a program vital to the lives of Americans living with HIV and AIDS. Its existence has had a dramatic impact on the quality and length of their lives while helping to reduce the cost of their care.
The CARE Act provides direct services to people living with HIV and AIDS through grants to states, cities, community organizations, and local clinics. It emphasizes outpatient care in clinics and other facilities and is designed to relieve the burden on public hospitals and other more expensive inpatient facilities.
It has been a tremendous success in meeting this mandate. By lessening the demand on public hospitals and other facilities, valuable inpatient resources have been freed to care for patients with other diseases, and people with HIV and AIDS have been able to lead more productive lives in their communities. The CARE Act approach serves as a model for delivering more cost-effective health care for people with all diseases.
In 1994, the CARE Act provided care to more than 200,000 uninsured and underinsured people living with HIV or AIDS and early intervention services to another 85,000 people. The Act also funded HIV counseling and testing to nearly 100,000 Americans, provided pharmaceutical assistance to 75,000 individuals, and supported more than 15,000 women and children participating in AIDS-related clinical trials.
Let me share with you the story of one person who has been helped by this program—one person whose experience with the CARE Act is typical of literally hundreds of thousands of other Americans who have benefited from this law. "Debbie" is a 27 year old woman living with AIDS in a rural part of South Carolina. Until recently, few doctors in Debbie's hometown were willing to treat AIDS patients in part because so many were uninsured. With funding from the Ryan White CARE Act, the County Health Department opened a clinic in the town of Orangeburg that operated six days a month with a rotating staff of five physicians and three nurses. The clinic's staff has taught Debbie's mother to care for her daughter at home. When Debbie is too sick to come to the clinic, the staff comes to her. Not only has this prevented more costly hospitalizations, but it provides Debbie and her mother peace of mind. Debbie's Mom calls the clinic's staff her "guardian angels."
The Ryan White CARE Act is a model of compassionate caring for people in need. At a time when AIDS is the leading cause of death of young adults, we cannot let reauthorization of the CARE Act be held up by divisive arguments about how people contracted HIV. Nor should we be deterred by the false argument that people with HIV and AIDS are getting more help than those with other diseases. In fact, total federal spending in FY 1995 for research, treatment prevention, Medicaid, Medicare, and income supplements for AIDS is less than one-third that for cancer and less than onesixth that for heart disease. (AIDS spending is $6 billion, cancer is $17.5 billion, and heart disease is $38 billion.)
In the United States, an average of 220 Americans are being diagnosed with AIDS every day and an average of 109 Americans are dying of this disease each day. Now is not the time to retreat in our national response to this terrible disease. We must move forward to meet the very real needs of Americans living with HIV and AIDS. We can certainly do more, we cannot do any less.
I hope you will join me in urging the Congress to move forward promptly with a fiveyear reauthorization of this vital program without complicated amendments so that we can once again show the American people that their government can provide the assistance they deserve.
Sincerely,
BILL CLINTON
NOTE: Identical letters were sent to Newt Gingrich, Speaker of the House of Representatives, and Bob Dole, Senate majority leader.
William J. Clinton, Letter to Congressional Leaders on Reauthorization of the Ryan White CARE Act Online by Gerhard Peters and John T. Woolley, The American Presidency Project https://www.presidency.ucsb.edu/node/221668