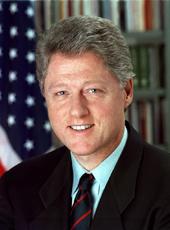 Letter to Congressional Leaders on Major Narcotics Producing and Transit Countries
Dear Mr. Chairman: (Dear Ranking Member:)
In accordance with the provisions of section 490(h) of the Foreign Assistance Act of 1961 (FAA), as amended, I have determined that the following countries are major illicit drug-producing or drug-transit countries: Afghanistan, Aruba, The Bahamas, Belize, Bolivia, Brazil, Burma, Cambodia, China, Colombia, Dominican Republic, Ecuador, Guatemala, Haiti, Hong Kong, India, Iran, Jamaica, Laos, Malaysia, Mexico, Nigeria, Pakistan, Panama, Paraguay, Peru, Taiwan, Thailand, Venezuela, and Vietnam. These countries have been selected on the basis of information from the March 1, 1997, International Narcotics Control Strategy Report and from other U.S. Government sources.
This year, I have removed Lebanon and Syria from the list. Both countries were placed on the majors list ten years ago on the basis of important, illicit opium cultivation in Lebanon's Beka'a Valley, a region under the control of Syrian occupation forces. Evidence that Syrian troops at the time were protecting and facilitating drug cultivation, production, and transportation led to the inclusion of Syria on the list beginning in 1992, however, Lebanon and Syria jointly began a campaign to eradicate the more than 3,400 hectares of Beka'a Valley opium poppy cultivation.
This effort has been effective, since U.S. Government surveys have detected no current opium poppy cultivation. Though both countries are transit areas for South American cocaine, and small laboratories in Lebanon reportedly refine Southwest Asian opium into heroin destined for Europe and the West, there is no evidence that any of these drugs reach the United States in quantities that significantly affect the United States. I have removed both countries from the majors list this year and have placed them on the watch list, with the understanding that they will be once again listed as major illicit drug producers or transit countries, should the evidence warrant.
Netherlands Antilles. Analysis of the trafficking patterns in the region indicates that there is continuing drug activity taking place around the Netherlands Antilles, especially in the vicinity of St. Maarten. Although at present there is only anecdotal information, it is possible that significant quantities of U.S.-bound drugs are involved. If I determine that drugs entering the United States from the Netherlands Antilles do so in sufficient quantities as to affect the United States significantly, I will add the Netherlands Antilles to the list of major illicit drug-transit countries.
Turkey and other Balkan Route Countries. Although I remain concerned over the large volume of Southwest Asian heroin moving through Turkey and neighboring countries to Western Europe along the Balkan Route, there is no clear evidence that this heroin significantly affects the United States—as required for a country to be designated a major transit country. In the event that I determine that heroin transiting Turkey, Bulgaria, Greece, the former Republic of Yugoslavia, Bosnia, Croatia, the Former Yugoslavian Republic of Macedonia, or other European countries on the Balkan Route significantly affects the United States, I will add the relevant countries to the majors list.
Cuba. Cuba's geographical position astride one of the principal Caribbean trafficking routes to the United States makes it a logical candidate for consideration for the majors list. While there continue to be some credible reports that trafficking syndicates use Cuban territory (including waters and airspace) for moving drugs, it has yet to be confirmed that this traffic carries significant quantities of cocaine or heroin to the United States.
Central Asia. There have been recent probes of potential cultivation sites in Tajikistan and Uzbekistan, traditional opium poppy growing areas of the former Soviet Union. These probes did not show significant opium poppy cultivation. If ongoing analysis reveals cultivation of 1,000 hectares or more of poppy, I will add the relevant countries to the majors list.
Major Cannabis Producers. While Kazakhstan, Kyrgyzstan, Morocco, the Philippines, and South Africa are important cannabis producers, they do not appear on this list since I have determined, pursuant to FAA section 481(e)(2), that in all cases the illicit cannabis is either consumed locally or exported to countries other than the United States, and thus such illicit cannabis production does not significantly affect the United States.
Sincerely,
WILLIAM J. CLINTON
NOTE: Identical letters were sent to Jesse Helms, chairman, and Joseph R. Biden, Jr., ranking member, Senate Committee on Foreign Relations; Ted Stevens, chairman, and Robert C. Byrd, ranking member, Senate Committee on Appropriations; Benjamin A. Gilman, chairman, and Lee H. Hamilton, ranking member, House Committee on International Relations; and Robert L. Livingston, chairman, and David R. Obey, ranking member, House Committee on Appropriations. This letter was released by the Office of the Press Secretary on November 10.
William J. Clinton, Letter to Congressional Leaders on Major Narcotics Producing and Transit Countries Online by Gerhard Peters and John T. Woolley, The American Presidency Project https://www.presidency.ucsb.edu/node/223281