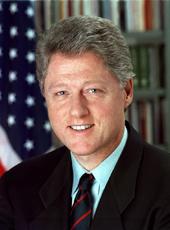 Letter to Congressional Leaders on Major Illicit Drug-Producing and Drug-Transit Countries
Dear __________:
In accordance with the provisions of section 490(h) of the Foreign Assistance Act of 1961, as amended, I have determined that the following countries are major illicit drug-producing or drug-transit countries: Afghanistan, Aruba, The Bahamas, Belize, Bolivia, Brazil, Burman, Cambodia, China, Colombia, Dominican Republic, Ecuador, Guatemala, Haiti, Hong Kong, India, Jamaica, Laos, Mexico, Nigeria, Pakistan, Panama, Paraguay, Peru, Taiwan, Thailand, Venezuela, and Vietnam.
This year I have removed Iran and Malaysia from the list of major drug producing countries and designated them as countries of concern.
Iran. On the list as a major drug producer since 1987, Iran has been a traditional opium producing country, with illicit poppy cultivation well beyond the statutory threshold limit of 1,000 hectares. A United States Government review in 1993 determined that there were at least 3,500 hectares of illicit opium poppy under cultivation in the country.
Over the past few years, the Government of Iran has reported success in eradicating illicit opium poppy cultivation. We were unable to test these claims until this year, when a United States Government review found no evidence of any significant poppy cultivation in the traditional growing areas. While we cannot rule out some cultivation in remote parts of the country, it is unlikely that there would be enough to meet the threshold definition of a major drug producing country.
Although important quantities of opiates continue to transit Iran en route to Europe, the United States Government currently has no evidence to support a judgment that significant quantities of these drugs are headed to the United States. Therefore, Iran is not a major drug-transit country under section 481(e)(5) of the Foreign Assistance Act.
Malaysia. Although Malaysia's geographic location makes it a feasible transit route for heroin to the United States, as had been the case in the past, we have no indication that drugs significantly affecting the United States have transited the country in the past few years.
I have further determined that the following countries or regions are of concern for the purpose of U.S. counternarcotics efforts:
Netherlands Antilles. Though there is continuing drug activity taking place around the Netherlands Antilles, especially in the vicinity of St. Maarten, we have only anecdotal information that significant quantities of drugs bound for the United States are involved.
Turkey and Other Balkan Route Countries. I continue to be concerned about the large volume of Southwest Asian heroin moving through Turkey and neighboring countries (including Bulgaria, Greece, the Federal Republic of Yugoslavia, Bosnia, Croatia, and the Former Yugoslavian Republic of Macedonia) to Western Europe along the Balkan Route. There is no clear evidence, however, that this heroin significantly affects the United States—as required for a country to be designated a major transit country.
Syria and Lebanon. I removed Syria and Lebanon from the list of major drug producers last year after the United States Government determined that there was no significant opium poppy cultivation in Lebanon's Biqa' Valley. A review again this year confirmed that there is still no evidence of significant replanting of opium poppy and no evidence that drugs transiting these countries significantly affect the United States. The relevant agencies continue, however, to monitor the situation.
Cuba. Cuba's geographical position astride one of the principal Caribbean trafficking routes to the United States makes the country a logical candidate for consideration for the majors list. Interdiction operations elsewhere in the region are driving drug smugglers increasingly to fly over Cuba to drop cocaine into Cuban and Bahamian waters. This trend makes it important for Cuba to take effective measures to stem the flow and to cooperate with others in doing so.
Major Cannabis Producers. While Kazakhstan, Kyrgyzstan, Morocco, the Philippines, and South Africa are important cannabis producers, they do not appear on this list because I have determined, pursuant to section 481(e)(2) of the Foreign Assistance Act, that in all cases the illicit cannabis is either consumed locally or exported to countries other than the United States, and thus such illicit cannabis production does not significantly affect the United States.
Central Asia. United States Government agencies this year again conducted reviews of potential cultivation sites in Tajikistan and Uzbekistan, traditional opium poppy growing areas of the former Soviet Union. These reviews indicated no evidence of significant opium poppy cultivation.
Finally, I would note that geography makes Central America a logical conduit and transshipment area for South American drugs bound for Mexico and the United States, and that there has been evidence of increased trafficking activity in this region over the past year. Its location between Colombia and Mexico, combined with thousands of miles of coastline, the availability of a number of container-handling ports in Costa Rica, Nicaragua, and Honduras, the presence of the Pan-American Highway, and limited law enforcement capability, have made the isthmus attractive to the drug trade. Hurricane Mitch has disrupted traffic flow through the region, but over the longer term resumption or even an increase in trafficking activity remains possible.
Consequently, I am concerned about drug trafficking through Costa Rica, El Salvador, Honduras, and Nicaragua. The appropriate agencies will continue to compile data on drug flows and their effect on the United States in order to determine whether any are major drugtransit countries. At the same time, I expressly reiterate my commitment to support the efforts of these governments to recover from the ravages of Hurricane Mitch, and to ensure that drug traffickers do not take advantage of this tragedy to make inroads into the region.
Sincerely,
WILLIAM J. CLINTON
NOTE: Identical letters were sent to Jesse Helms, chairman, and Joseph R. Biden, Jr., ranking member, Senate Committee on Foreign Relations; Ted Stevens, chairman, and Robert C. Byrd, ranking member, Senate Committee on Appropriations; Bob Livingston, chairman, and David R. Obey, ranking member, House Committee on Appropriations; and Benjamin A. Gilman, chairman, and Lee H. Hamilton, ranking member, House Committee on International Relations. This letter was released by the Office of the Press Secretary on December 7.
William J. Clinton, Letter to Congressional Leaders on Major Illicit Drug-Producing and Drug-Transit Countries Online by Gerhard Peters and John T. Woolley, The American Presidency Project https://www.presidency.ucsb.edu/node/225519