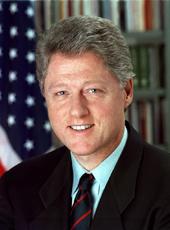 Letter to Congressional Leaders on Financial Assistance for Farmers
Dear Mr. Leader:
I am very concerned about the financial stress facing farmers and ranchers in many regions of the country. Natural disasters, combined with a downturn in crop prices and farm income, expected by the Department of Agriculture (USDA) to remain weak for some time, cause me to question again the adequacy of the safety net provided by the 1996 farm bill. In some areas of the U.S., as many as five consecutive years of weather and disease-related disasters have demonstrated weaknesses in the risk protection available through crop insurance.
During the debate on the 1996 farm bill, I encouraged Congress to maintain a sufficient farm safety net, and since its enactment my Administration has repeated that call, proposing measures to buttress the safety net that are consistent with the market-oriented policy of the 1996 farm bill. The 1994 Crop Insurance Reform Act established a policy of improving the crop insurance program in order to remove the need for ad hoc disaster payments. This commitment to crop insurance as the preferred means of managing crop loss risks was reaffirmed in the 1996 farm bill. Farmers have responded to this policy by maintaining their enrollment in crop insurance at very high levels, especially in the Northern Plains states.
Therefore, I am instructing the Secretary of Agriculture to redouble his efforts to augment the current crop insurance program to more adequately meet farmers' needs to protect against farm income losses. In the interim, to respond to the current unusual situations, I urge the Congress to take emergency action to address specific stresses now afflicting sectors of the farm economy.
I agree with the intent of Senator Conrad's amendment and recommend that funding to address these problems be designated as emergency spending. A supplemental crop insurance program for farmers who experience repeated crop losses, a compensation program for farmers and ranchers whose productive land continues to be under water, and extended authority for the livestock disaster program are examples of the type of emergency actions that could help farmers and ranchers.
It is also crucial that the Congress provide the level of funding proposed in my FY 1999 budget in the regular appropriations bills and that the Congress pass the full IMF package to support the efforts of American farmers.
I am confident that you and your colleagues share my concern for American farmers and ranchers who are experiencing financial stress from natural disasters and low prices, exacerbated by the global downturn in agricultural trade, and I encourage the Congress to take emergency action quickly.
Sincerely,
WILLIAM J. CLINTON
NOTE: Identical letters were sent to Thomas A. Daschle, Senate minority leader, and Richard A. Gephardt, House minority leader. An original was not available for verification of the content of this letter.
William J. Clinton, Letter to Congressional Leaders on Financial Assistance for Farmers Online by Gerhard Peters and John T. Woolley, The American Presidency Project https://www.presidency.ucsb.edu/node/226160