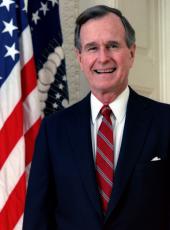 Letter to Congressional Leaders on Fast Track Authority Extension and the North American Free Trade Agreement
Dear Mr. Chairman:
Through the better part of this century, successive Congresses and Administrations -- Republican and Democratic -- have worked to open markets and expand American exports. This partnership has resulted in unparalleled growth in world trade and huge economic benefits for the United States. Opening foreign markets means economic growth and jobs for all Americans.
Historically, the fast track procedures established by the Congress have served us well. On March 1, I requested an extension of fast track so that we could continue to realize increased economic growth and the other benefits of expanded trade. The fast track in no way limits the ability of Congress to review any agreement negotiated, including the Uruguay Round or a North American Free Trade Agreement (NAFTA). If Congress is not satisfied, it retains the unqualified right to reject whatever is negotiated. But refusing to extend the fast track would end negotiations before they have even begun and relinquish a critical opportunity for future economic growth.
Initiatives to open markets will enhance the global competitiveness of the United States and create new opportunities for American workers, American exports, and American economic growth. The Uruguay Round offers a vital opportunity to eliminate barriers to our goods, investment, services, and ideas. A NAFTA offers an historic opportunity to bring together the energies and talents of three great nations, already bound by strong ties of family, business, and culture. Prime Minister Mulroney and President Salinas are both leaders of great vision. They believe, as do I, that a NAFTA would enhance the well-being of our peoples. They are ready to move forward with us in this unprecedented enterprise.
In seeking to expand our economic growth, I am committed to achieving a balance that recognizes the need to preserve the environment, protect worker safety, and facilitate adjustment. In your letter of March 7, you conveyed a number of important Congressional concerns about free trade with Mexico. At my direction, Ambassador Hills and my Economic Policy Council have undertaken an intensive review of our NAFTA objectives and strategy to ensure thorough consideration of the economic, labor, and environmental issues raised by you and your colleagues. The Administration's response is presented in the attached report. Let me emphasize the following:
First, you have my personal commitment to close bipartisan cooperation in the negotiations and beyond. And you have my personal assurance that we will take the time necessary to conclude agreements in which both the Congress and the Administration can take pride.
Second, while economic studies show that a free trade agreement would create jobs and promote growth in the United States, I know there is concern about adjustment in some sectors. These concerns will be addressed through provisions in the NAFTA designed to ease the transition for import-sensitive industries. In addition, my Administration is committed to working with the Congress to ensure that there is adequate assistance and effective retraining for dislocated workers.
Third, based on my discussions with President Salinas, I am convinced that he is firmly committed to strengthened environmental protection, and that there is strong support for this objective among the Mexican people. Because economic growth can and should be supported by enhanced environmental protection, we will develop and implement an expanded program of environmental cooperation in parallel with the free trade talks.
Fourth, President Salinas has also made it clear to me that his objective in pursuing free trade is to better the lives of Mexican working people. Mexico has strong laws regulating labor standards and worker rights. Beyond what Mexico is already doing, we will work through new initiatives to expand U.S.-Mexico labor cooperation.
Thus, our efforts toward economic integration will be complemented by expanded programs of cooperation on labor and the environment. The catalyst for these efforts is the promise of economic growth that a NAFTA can provide, and the key to these efforts is the extension of unencumbered fast track procedures.
There are great challenges ahead. The world is changing dramatically, as nations move toward democracy and free markets. The United States must continue to open new markets and lead in technological innovation, confident that America can and will prevail in this new and emerging world. By working together, we can negotiate good trade agreements that assure a strong and healthy America as we prepare to meet the challenges of the next century.
Sincerely,
George Bush
Note: Identical letters were sent to Lloyd Bentsen, chairman of the Senate Finance Committee; Richard A. Gephardt, House majority leader; and Dan Rostenkowski, chairman of the House Ways and Means Committee.
George Bush, Letter to Congressional Leaders on Fast Track Authority Extension and the North American Free Trade Agreement Online by Gerhard Peters and John T. Woolley, The American Presidency Project https://www.presidency.ucsb.edu/node/266422