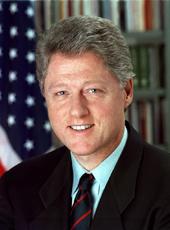 Letter to Congressional Leaders on Disaster Assistance and Relocation Funding for States Struck by Hurricane Floyd
Dear Mr. Speaker: (Dear Mr. Leader:)
When Hurricane Floyd swept through the Mid-Atlantic region, it left in its wake a wide path of destruction and despair. Since that time, my Administration has been working closely with all of the affected States to ensure that Federal disaster assistance programs are used to the maximum extent possible to support residents as they repair and rebuild their communities and their lives.
An important element in this rebuilding process will be mitigating against a repetition of such widespread destruction. An unprecedented number of the homes destroyed—11,000 in North Carolina alone—were in flood plains and therefore remain vulnerable to future floods. To address this most pressing need, I am asking the Congress to approve the use of $429 million of the contingent disaster relief funds recently appropriated to the Federal Emergency Management Agency to buy out many of these homes and relocate them to safer, higher ground.
During my visit to eastern North Carolina after Hurricane Floyd, I was profoundly moved by the resolve of the citizens of the region to recover from this incredible devastation. To support the long-term efforts of people in every affected community to reconstruct their homes, businesses, and infrastructure, assistance from the Federal Government must be responsive and prompt. Federal disaster relief programs already have provided more than $600 million to help individuals and communities recover from the effect of Hurricane Floyd. Among other things, Federal assistance has provided temporary housing and shelter, disaster unemployment benefits, debris removal, funds to repair and reconstruct public infrastructure, and loans to rebuild homes and businesses. My Administration will continue to work with the States and with the Congress to assess remaining needs and provide further assistance.
The recent appropriation of $2.5 billion for FEMA's Disaster Relief Fund will allow those working on the ground to continue to respond quickly and effectively. I urge the Congress now to provide both the funding that I have requested for the Small Business Administration's disaster loan program, and the additional $500 million that I have requested, and for which my Administration will provide budgetary offsets, to provide for the unmet needs of farmers and ranchers. Together, these funds will ensure that the Federal Government continues to provide needed disaster assistance in a timely manner.
I know the rebuilding process will not be easy, but as I saw on my trip to North Carolina, the true spirit of America remains evident, with people from all backgrounds coming together when times are tough. Let us do our part and authorize the necessary funding to support the hard work being done to rebuild all of the States affected by recent disasters.
Sincerely,
WILLIAM J. CLINTON
NOTE: Letters were sent to J. Dennis Hastert, Speaker of the House of Representatives; Richard A. Gephardt, House minority leader; Trent Lott, Senate majority leader; and Thomas A. Daschle, Senate minority leader. An original was not available for verification of the content of this letter.
William J. Clinton, Letter to Congressional Leaders on Disaster Assistance and Relocation Funding for States Struck by Hurricane Floyd Online by Gerhard Peters and John T. Woolley, The American Presidency Project https://www.presidency.ucsb.edu/node/228636