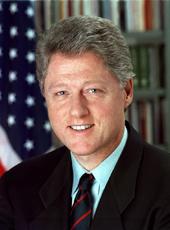 Letter to Congressional Leaders on Deployment of United States Troops to Somalia
Dear Mr. Speaker: (Dear Mr. President:)
On February 27, 1995, at approximately 3:00 p.m. e.s.t., 1,800 combat-equipped U.S. Armed Forces personnel began deployment into Mogadishu, Somalia, to assist in the withdrawal of U.N. forces assigned to the United Nations Operation in Somalia (UNOSOM II). The U.S. forces were accompanied by approximately 500 Italian marines. A total of 14,000 multinational personnel are participating in this operation. The U.S. forces include the USS Essex Amphibious Readiness Group, the USS Belleau Wood, the Special Marine Air-to-Ground Task Force, and Special Operations forces including four AC- 130 gunships.
The U.S. Armed Forces entered Somalia in December 1992, pursuant to United Nations Security Council Resolution 794, with the mission of establishing a secure environment for humanitarian relief operations. Upon completion of this mission in 1993, responsibility for maintaining the environment created by the U.S.-led operation was transferred to UNOSOM II. Almost all U.S. military forces were withdrawn from Somalia on March 31, 1994, and the few remaining U.S. forces were subsequently withdrawn on September 15, 1994.
The U.S. forces have returned to Somalia to support the U.N. withdrawal as part of the U.S. long-standing commitment to U.N. humanitarian efforts in Somalia. The withdrawal operation is a coalition effort consisting of forces from Italy, the United Kingdom, France, Pakistan, Malaysia, Bangladesh, and the United States. We do not intend that U.S. Armed Forces deployed to Somalia become involved in hostilities. Nonetheless, these forces are equipped and ready to take such measures as may be needed to accomplish their mission and defend themselves, if necessary; they also will have the support of any additional U.S. Armed Forces necessary to ensure their safety and the accomplishment of their mission. It is my intention that this will be an operation of short duration whose only purpose is to assist in the withdrawal of UNOSOM II forces.
Over the course of the U.N. operations in Somalia, various items of U.S. equipment (helicopters, tanks, and armored personnel carriers) were leased to the United Nations to support operations in Somalia. It is our intention to assist the United Nations in withdrawing this equipment, to prevent its falling into the hands of those who might use it to cause further harm to the Somali people.
I have taken this action pursuant to my constitutional authority to conduct U.S. foreign relations and as Commander in Chief and Chief Executive.
I remain committed to ensuring that the Congress is kept fully informed regarding significant employments of the U.S. Armed Forces. Accordingly, and consistent with the War Powers Resolution, I am providing this report on the U.S. military actions described above. I appreciate your continued support as we complete this operation.
Sincerely,
WILLIAM J. CLINTON
NOTE: Identical letters were sent to Newt Gingrich, Speaker of the House of Representatives, and Strom Thurmond, President pro tempore of the Senate.
William J. Clinton, Letter to Congressional Leaders on Deployment of United States Troops to Somalia Online by Gerhard Peters and John T. Woolley, The American Presidency Project https://www.presidency.ucsb.edu/node/221028