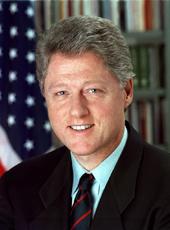 Letter to Congressional Leaders on Deployment of United States Armed Forces to Haiti
Dear Mr. Speaker: (Dear Mr. President:)
On September 18, I reported to the Congress that an agreement was successfully concluded by former President Jimmy Carter, Senator Sam Nunn, and General Colin Powell regarding the transition between the de facto government and the elected government in Haiti. On September 18, I also directed the deployment of U.S. Armed Forces to Haiti as part of the multinational coalition provided for by U.N. Security Council Resolution 940 of July 31, 1994. I am providing this report, consistent with the War Powers Resolution, to ensure that the Congress is kept fully informed regarding this action to support multilateral efforts to restore democracy in Haiti and to protect democracy in our hemisphere.
On September 19, at approximately 9:25 a.m. e.d.t., units under the command of the Commander in Chief, U.S. Atlantic Command, were introduced into Haitian territory, including its territorial waters and airspace. United States Armed Forces participating in the deployment include forces from the U.S. Army's 18th Airborne Corps, including the 10th Mountain Division; U.S. Naval Forces from the U.S. Atlantic Fleet, including the U.S. Second Fleet and U.S. Marine Forces and amphibious ships; U.S. Air Forces, including the 12th Air Force; and various units from U.S. Special Forces.
Air-landed and seaborne U.S. forces successfully secured initial entry points at Port au Prince International Airport and the Port au Prince port facilities. Approximately 1,500 troops were involved in these initial efforts. No resistance was encountered and there were no U.S. casualties. Over the next several days, it is anticipated that U.S. troop strength in Haiti will increase by several thousand in order to ensure the establishment and maintenance of a secure and stable environment.
As to the duration of the mission, our presence in Haiti will not be open-ended. As I indicated on September 18, the coalition will be replaced after a period of months by a U.N. peacekeeping force, the U.N. Mission in Haiti (UNMIH). By that time, the bulk of U.S. forces will have departed. Some U.S. forces will make up a portion of the UNMIH and will be present in Haiti for the duration of the U.N. mission.
The entire U.N. mission will withdraw from Haiti after elections are held next year and a new Haitian government takes office in early 1996, consistent with U.N. Security Council Resolution 940.
The military operations I have directed are conducted under U.S. command and control. As I reported to the Congress on September 18, the departure from power of the coup leaders will substantially decrease the likelihood of armed resistance. There has not been armed resistance to the deployment. However, the forces are equipped for combat and ready to accomplish their mission and to defend themselves, as well as to ensure the safety of U.S. nationals in Haiti.
I have taken these measures to further the national security interests of the United States: to stop the brutal atrocities that threaten tens of thousands of Haitians; to secure our borders; to preserve stability and promote democracy in our hemisphere; and to uphold the reliability of the commitments we make, and the commitments others make to us, including the Governors Island Agreement and the agreement concluded on September 18 in Haiti.
I have ordered this deployment of U.S. Armed Forces pursuant to my constitutional authority to conduct foreign relations and as Commander in Chief and Chief Executive.
Finally, I remain committed to consulting closely with the Congress, and I will continue to keep the Congress fully informed regarding this important deployment of our Armed Forces.
Sincerely,
WILLIAM J. CLINTON
NOTE: Identical letters were sent to Thomas S. Foley, Speaker of the House of Representatives, and Albert Gore, Jr., President of the Senate.
William J. Clinton, Letter to Congressional Leaders on Deployment of United States Armed Forces to Haiti Online by Gerhard Peters and John T. Woolley, The American Presidency Project https://www.presidency.ucsb.edu/node/217649