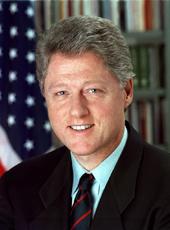 Letter to Congressional Leaders on Child Support Enforcement
Dear Mr. Chairman:
I am writing to reiterate my firm belief that Congress must pass tough child support enforcement measures as part of welfare reform. When absent parents don't provide support, the inevitable result is more welfare, more poverty, and more difficult times for our children. It is essential that all Americans understand that if they parent a child, they will be held responsible for nurturing and providing for that child.
I am doing everything in my power to crack down on child support enforcement. In 1993, we collected a record $9 billion in child support—a 12 percent increase over the previous year. Last week, I signed an Executive Order to ensure that federal employees who owe child support live up to their responsibilities as parents, and that the federal government will do its utmost to help find parents with delinquent child support claims. Our welfare reform plan included the toughest child support measures ever proposed. If absent parents aren't paying child support, we will garnish their wages, suspend their licenses, track them across state lines, and if necessary, make them work off what they owe.
Parental responsibility should not become a partisan issue. At the bipartisan national Working Session on Welfare Reform that I hosted at Blair House, Republican and Democratic leaders from around the country and every level of government agreed that we should enact the toughest child support enforcement measures possible.
I hope the committee will not shy away from its responsibilities on this issue. A number of bills similar to our plan could serve as the foundation for any effort to reform child support— including the one offered by Representatives Barbara Kennelly, Nancy Johnson, and others. Critical elements include denying welfare benefits to any unwed mother who does not cooperate fully in identifying the father, powerful measures for tracking interstate cases, and serious penalties—including license suspension, and if necessary, requiring work—for parents who refuse to pay what they owe. We must also include both the performance incentives and resources states need to do the job right.
It is time to get serious about child support in this country. I look forward to working with Congress to get it done.
With best wishes,
Sincerely,
WILLIAM J. CLINTON
NOTE: Identical letters were sent to Bill Archer, chairman, and Sam Gibbons, ranking member, House Committee on Ways and Means. An original was not available for verification of the content of this letter. The Executive order of February 27 is listed in Appendix D at the end of this volume.
William J. Clinton, Letter to Congressional Leaders on Child Support Enforcement Online by Gerhard Peters and John T. Woolley, The American Presidency Project https://www.presidency.ucsb.edu/node/221042