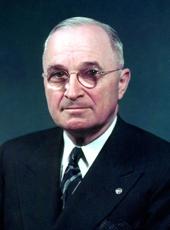 Letter Appointing Members of a Special Board of Inquiry on Air Safety
Dear Mr.____________:
The development of our air transportation system has repeatedly been recognized as a matter of vital concern to our nation. One of the essential factors which can contribute greatly to the progress of our air transportation system, or can seriously hinder that progress, is the safety of our air transport operations. The public interest demands that every effort be made to obtain the highest degree of safety in those operations.
I am deeply concerned about this subject, especially in view of the recent accidents to aircraft of our certified domestic air carriers. I have, therefore, determined that the whole problem of air transport safety in the United States should be carefully examined by a group of citizens representative of all those interests of our society to whom this safety is a matter of constant concern. Accordingly, I am appointing a special board of inquiry on air transport safety, and request you to serve as a member of that board.
This board should study the pertinent data and information relating to the program for safety in air transportation and the factors, both mechanical and human, which enter into safe operation. It should study, among other things, the recent series of accidents to determine how the findings in relation thereto can be utilized to advance air safety. It should consider also the way in which new equipment, already predictable, must be keyed to mechanical aids and human capabilities.
The board should in its discretion avail itself of all information and data in any Government Department or agency, and to the extent feasible in any private agency or group which may have an interest in or contribute to the solution of this problem. In conducting its study, the board is authorized to hold such public hearings as it may in its discretion determine to be desirable.
The board should present for my consideration, as soon as possible and from time to time, recommendations as to any action or measures which it would deem appropriate in order further to promote safety in air transportation. The board's findings will assist me in determining any further steps which should be taken by the Executive Branch of the Government to assure the highest degree of safety, and to formulate proposals to the Congress for any necessary legislation. Any executive departments and agencies concerned will of course give you every possible aid in this undertaking.
Very sincerely yours,
HARRY S. TRUMAN
Note: This is the text of identical letters addressed to the following appointees to the Special Board of Inquiry: Brig. Gen. Milton W. Arnold, Vice president for Operations and Engineering, Air Transport Association of America; Dr. Jerome C. Hunsaker, Chairman, National Advisory Committee for Aeronautics; James M. Landis, Chairman, Civil Aeronautics Board; Theodore P. Wright, Civil Aeronautics Administrator; and H. B. Cox, member of the Air Line Pilots Association. Mr. Landis was designated Chairman of the Special Board, and Dr. Hunsaker, Vice Chairman.
The letter and list of appointees were part of a White House release announcing that the President had that day appointed the Special Board of Inquiry for Air Safety.
The Board's first interim report, relating mainly to problems of take-off, was released by the White House on June 28. Additional brief reports, dealing with such problems as approach and landing, terrain clearance, structural capacity, and accident survival, were released on July a, July 7, August 1, August 16, and January 2, 1948.
Harry S Truman, Letter Appointing Members of a Special Board of Inquiry on Air Safety Online by Gerhard Peters and John T. Woolley, The American Presidency Project https://www.presidency.ucsb.edu/node/231912