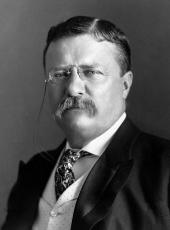 Letter to Anna Cabot Mills Lodge
Washington, November 10, 1904
Dear Nannie: It was very pleasant to hear from you. The election results are really astounding, and I am overwhelmed by them. I had no conception that there was such a tide in our favor, and I frankly confess that I do not understand it. I do not want to be vindictive, but I must say that I particularly enjoy the showing made as to the utter impotence of the Evening Post, Carl Schurz, Francis Adams, Moorfield Storey, and that set. The fly in the ointment is the defeat of Bates in Massachusetts. Moreover, I am genuinely sorry that this most righteous defeat of the democracy should, in the State of Missouri, have as an incident the defeat of the best Senator in the democratic party, old Cockrell, who is a fine old boy.
There is one side of the New York situation that gives me grim pleasure. Four years ago the New York Herald, Times, World, Sun, and Evening Post and the Brooklyn Eagle were violently against Bryan and for McKinley. This year the Sun has been neutral and the others violently against me and for Parker; yet I have actually increased the majority, and have a larger plurality over Parker in New York than McKinley had over Bryan, ft is astounding, and I am very grateful to the American people, and all that in me lies will be done during the next four years to show my appreciation. I take it for granted that you and Cabot both approved of my making the statement I did about never accepting another nomination. I felt that not only was the statement right, but the time to make it was immediately upon receiving news of the victory.
I had no idea that there was such a tidal wave, and was prepared for defeat—that is, I thought that the chances favored my election, but that there was a good chance of my defeat, but I did not anticipate any great sweep. The last fortnight was nervous for both Edith and me. Parker's personal attacks grew so outrageous that I felt it necessary to smash them. But of course I could not be certain that some individual connected with our canvass had not done something foolish or wicked which would give opportunity for an attack upon me—an attack which might leave a false impression as to my good faith or good name.
This is a very egoistic letter, dear Nannie, and I hope you will pardon it.
With warm regards to Cabot, Faithfully yours.
Note: Anna Cabot Mills Lodge was the wife of Massachusetts senator Henry Cabot Lodge. Carl Schurz was a former U.S. senator from Missouri and secretary of the interior who spent the years before his death as a journalist. Francis Adams had written a book about trusts and would publish a biography of Roosevelt in 1909. Moorfield Storey was an author and publicist. John Lewis Bates was the Republican governor of Massachusetts who had just been defeated in his reelection bid. Francis Marion Cockrell was a U.S. senator from Missouri. Edith Roosevelt was the first lady.
Source: Source: Elting E. Morison, ed" The Letters of Theodore Roosevelt vol. 4, The Square Deal 1903-1905 (Cambridge: Harvard University Press, 1951), 1024-1026.
Theodore Roosevelt, Letter to Anna Cabot Mills Lodge Online by Gerhard Peters and John T. Woolley, The American Presidency Project https://www.presidency.ucsb.edu/node/345956